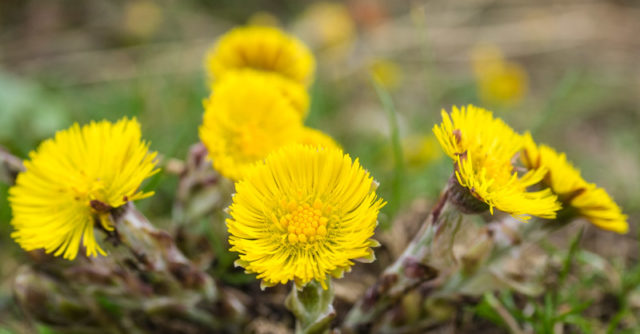 New day, new rules.
Drove to Tesco today with Scamp, only to be told that the rules had changed:
One trolley per household.
One person per trolley.
Scamp had the shopping list in her head. She hadn't committed it to her phone or a notepad, so she got to be the one to enter the golden portal to do the shopping. I went back to sit in the car and enjoy the sunshine, because the sun was shining quite brightly this morning. When she arrived back at the car, her trolley was brimming with stuff. All useful and mostly edible stuff too. Biggest shop she's done in a long time, she said. Given that there was a bottle of whisky, another of gin and three bottles of wine, plus the groceries, I'd say we did not too badly from our big spend. Lots of folk were spending much more. Those were the ones with the extra large trolleys. I'm sure some of them had a forklift truck parked in the carpark to get their stuff home.
After all the stuff was put away, and after lunch, Scamp went out to 'clear out the bin shed'. The bin shed is where lots of the gardening stuff is kept and it occasionally deserves a good clean out. By the time I'd changed into my painting togs, she had everything out of the shed and on the path. It was probably getting in poor Bobby Flavel's way. He lives at the corner house and is never happier than when he's got something to do. He'd already dug his garden, swept the path and then swept the road outside. No kidding! Now he was cutting the grass for Angela (next door) who is off work and self isolating. Not only cutting the grass, but also edging it too and doing a great job. Me, I had already scraped the front sill and started painting it. The external acrylic paint is great stuff, especially when painting on warm concrete. It dries almost instantly. So, it was like the old story about the Forth Bridge. When they'd finished painting it, the went back to the start and did it all again. Once I'd finished the 2.5m length of the front sill, the bit I'd started at was dry and ready for a second coat. Two coats should do. Next the back window that I did yesterday, but wasn't satisfied with. I'd already scraped it too and gave it a fresh coat. Maybe one more coat for it will do, maybe tomorrow.
Would I? Wouldn't I? Eventually I did go out for a walk in St Mo's. Walking through the woods is perfect for isolation.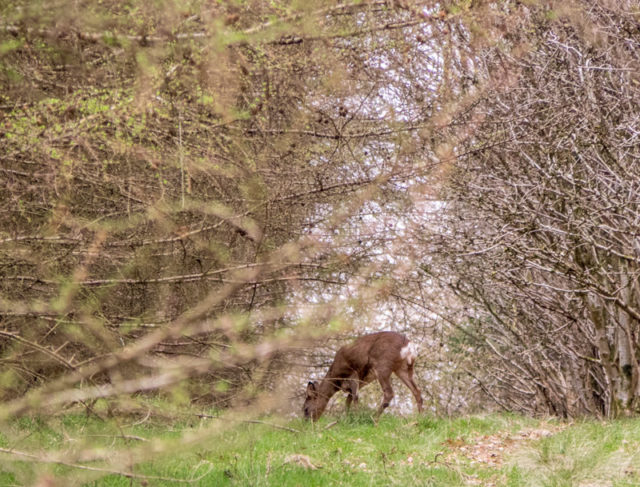 Usually nobody and nothing there to bother me. Today was different. Turned a corner and less than 20m away was a Roe deer, a doe, happily grazing. Luckily I had the right lens on for once and got one shot. Then its head went up and away it ran. Took another shot, but I knew it was too soft. First one looked good though. I think it was the sound of the shutter that startled it. Next time I'll remember to use silent (electronic) shutter. If there is a next time. This is the first time for months I've actually managed to get a decent shot of a St Mo's deer, or any deer for that matter.
Walked back and took some shots of strange wee flower things on a little larch. They didn't work, but I'm hoping to go back tomorrow and have another go, weather permitting, because we're due some gales on Thursday. Possibly snow on Friday.
I did get one more shot and it became the PoD. A little clump of Coltsfoot Daisies growing beside the footpath on the way home. Lovely flowers, they bloom just around Easter every year. They always remind me of my dad for some reason. That's not a bad thing at all.
I'd made stew for dinner tonight and it was lovely. Of course it was under the strict tutelage of Scamp, the number one stew chef in this house. I stewed a couple of sausages in it for good measure and they were the stars of the show. Left just enough to have for lunch tomorrow.
Practised our dancing routines tonight. We're probably building in a lot of mistakes and short cuts I realise, but Kirsty's not the perfectionist that Michael was, so it will be ok. What Michael did do, and did well, we both agree was teach us how to Jive and those moves are hard wired into our heads now. We reprised them too. Actually we remembered a lot of them we haven't danced since about November last year. He might have been was a pain in the backside, but he did know his jive steps.
Tomorrow we have no real plans. Must get the upstairs sills cleaned down and maybe a coat of paint on them too. Must also get something done about staking the apple tree. Depends if we can get some wood from B&Q.