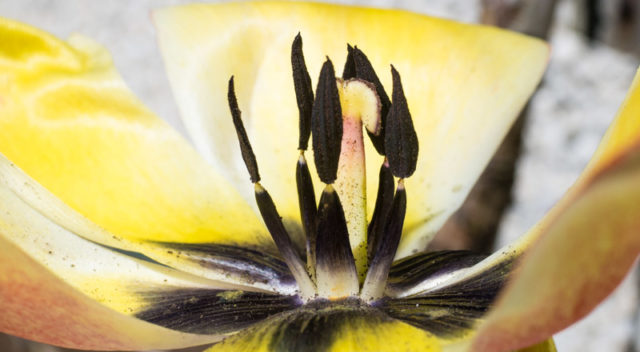 When we woke this morning it was cloudy and dull.
It may have been cloudy and it may have been dull, but the outside temperature was already 14.4ºc. That's only 0.6º short of official Shorts and Tee Shirt weather as decreed by me.
When I eventually dragged myself away from my book, got showered and dressed, it was definitely shorts and tee shirt time, but I retained my decorum and just wore a shirt and jeans instead. Scamp was already in the garden, watering and feeding the plants and encouraging the sun to shine down on this great land we live in. Even better, it seemed to be working. The sun was breaking through the clouds and it looked like it was going to be a lovely day. Cleaned the Gaggia and which has been on my to do list for ages. Sat on the front step with Scamp and grabbed today's PoD which is the inside of an open tulip.
After a quick trip to Tesco, lunch and a conversation with Hazy. I decided it was time to get the bike out and take it for a run. Truly this was shorts and tee shirt weather, cycling shorts and a short sleeved top. It was a good run, but there wasn't much for the new lens to get a grip on. Back home and it as salad for dinner and a mighty good one too. Potato salad, mixed leaves, yesterday's mutton served cold, beetroot and all washed down with a glass of vino collapso. Then a seat in the garden to let it all slide down with the last of the vino to help it on its way. After an hour or so the sun had dipped far enough down to force us back inside.  Nice to have a restful Monday with no salsa as  the STUC building is closed on bank holidays.
All in all, it was a very nice day. Unfortunately it looks like it's all going downhill from here on in. Never mind, it was a really good summer. We enjoyed both days.