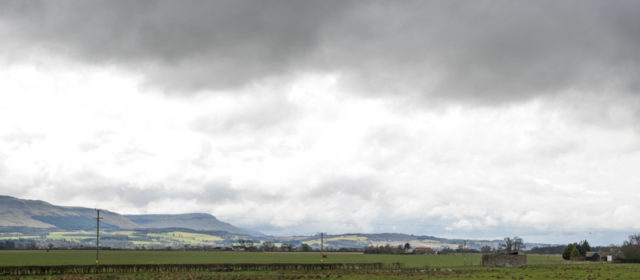 We just wanted to get out today and the Smiddy at Blair Drummond fitted the bill
Drove out there through occasional drizzle, but with the chance of some brightness too. I realised we'd made the right choice when I saw the specials menu. Baked potato with Veg Chilli, Jalapeños and Sour Cream. Haven't had that in ages. They also had Erdinger no-alcohol beer on the drinks menu, so I had that too. For Scamp it was Mac 'n' Cheese with the Smiddy hand cut Chips (Skin on), washed down with a glass of red. If I'm going to be picky, and I do have my foodie credentials to uphold, the potato felt as if it had been under the heat lights for a while and the chilli tasted like a re-heat, rather than fresh. Like I say, being picky. Scamp bought some fresh veg from the deli. She always prefers fresh veg, not packed in cling film. Things you can lift and check the condition. Ok, you maybe pay more that at Tesco, but you get to choose what you're buying.
While she was making her selection, I took the opportunity to grab some photos of the Gargunnock Hills which were managing to find some sunshine from somewhere. The sky was broken and there was light up there, but not a lot. Today's PoD shows the resulting panoramic image, built from five frames. It looks like I saw it.
Then, as the rain was starting, we headed back home. As we were driving past Stirling, the road was very wet but the sun was shining brightly. A typical Scottish day. It seemed as if we'd just missed a heavy rain shower, although we were about five miles north and we had only had spits and spots of the wet stuff.
I thought there was going to be enough light to go for a walk in St Mo's when we got home, but although it didn't actually rain, it was just too dull. You know my saying by now. "It's all about the light". I took one record shot of a pine tree "Pineapple" and that was out of focus, so glad I got the pano from the Smiddy.
While I was out, Scamp started in the back garden. Mainly cleaning up and freshening the soil round the plants, but also a bit of pruning. The rose between us and our next door neighbour was getting bit unruly and spreading into the poor woman's garden. A few clips with the secateurs soon brought it into line with where it should be. Some of the plants are beginning to show new growth, so I expect she'll be wanting to get started on the rest of the garden soon, all being well. I'll try not to get roped in too much.
Watched half of a recorded program about figure drawing. Not something I'd like to have a go at. Portraiture maybe, with a teacher who could actually demonstrate the techniques, not like the one I went to at Cumbersheugh College a year or so ago. However, the hour of the program I watched was interesting enough to go back to another time and see the second half.
Overall not a bad day. In fact it was a much better day than some poor people on a Jet 2 holiday were having when their plane did a 'U turn' on the way to Tenerife and flew back to the UK, because the company decided that was the safest option. What a disappointment that would be!
No Sunday Social tomorrow. AdS have cancelled all socials and all classes for at least a fortnight and more likely a month due to Covid 19. It's all becoming a bit claustrophobic now. We may go for a walk somewhere tomorrow if it's dry.