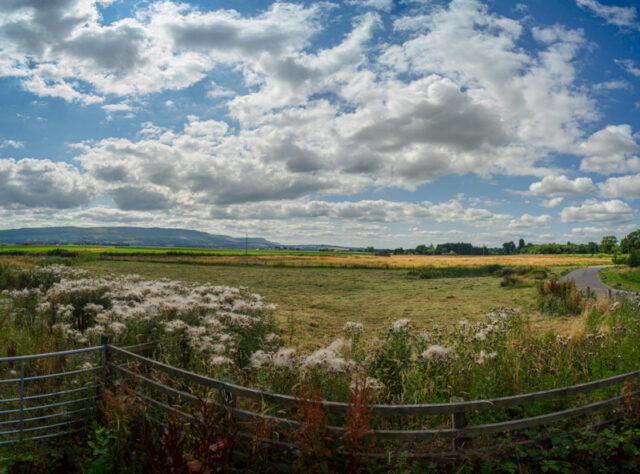 Away into the country.
Drove out to The Smiddy near Blair Drummond and accepted the last table they had. Not really a table, more like a shelf with two high seats to sit on. We were lucky to get it because not long afterwards people were told there was a 20min wait for a table. Also, others seemed to waltz in, have a few words with the manager and jump the queue, no questions asked. I don't think that's a good way to run a restaurant. At least not if you want the jilted customers to come back.
Despite the poor managerial skills, the food was good. Scamp had her usual Mac 'n' Cheese, but a much improved cheese sauce she said. I had the fishcakes and although they were a bit small, they tasted great with big chunks of fish and floury potato. Also, they were surprisingly filling, although that could have been down to the chips I snaffled from Scamp's plate.
All in all, a good lunch if you can get a seat.
Instead of driving straight home we took a detour further out into the country on a road we've been on before we think, but couldn't recall any of the scenery on it. Driving on 'B' roads in the lakes may have inspired my choice of narrow roads today, but the sun was out and we were away from the towns for a while. Our detour eventually took us through Thornhill and back to The Smiddy. We didn't go in though. We'd been lucky once today, we didn't want to have to wait 20mins for a table and then find some friends of the owner got seated before us. We drove home instead.
I'd taken some photos before we left the restaurant and today's PoD is the result of eight of those frames being seamlessly joined into a panorama of the Carse of Forth. The 'Carse' being the name given to the low lying fertile land either side of the River Forth.
Watered the garden tonight and included our next door neighbours flowers in the deluge because he'd watered ours last night. Scamp watered the back garden. We may have another good, dry day tomorrow, but after the middle of the week, things will go downhill. With that in mind, we may go out somewhere tomorrow before the rains come.