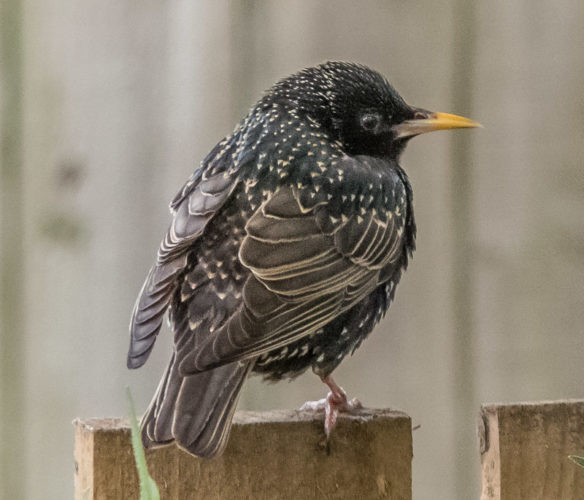 Today started dull, got duller, then it rained.  Read on for the boring details:
The morning was spent 'tidying the back bedroom'.  That is code for 'digging down to see if I could find the couch, then the floor. Scamp's sister is coming to stay for a few days and she'll need a bed for the night.  After I'd found both of the preceding items, I started the 'tidying up' proper.  By lunchtime the work was almost done and I'd even hoovered (or Dysoned ) all the upstairs except the bathroom.
After lunch I took the rubbish to the tip.  Another load of junk disposed of.  I went for a run to see if there was anything that piqued my interest, but no interest was piqued and I came home empty handed.  No rubbish, no photos, not even rubbish photos.  That state of affairs didn't last long.
The Stuckies (or Starlings to you) were queueing to get in at the peanuts.  They were perched all along the fence.  Just had time to grab the Oly10 and snap a few shots, the best of which is above.  By then dull had given over to dull and raining, so the ISO was really high, but somehow the Oly managed to handle it well.  Unfortunately the Teazer wasn't so capable of handling it, even if its zoom is so much better than the Oly10, so the two shots on Flickr are from the Oly, not the Teazer.
Dinner tonight was chicken curry, made from the leftovers from yesterday's dinner and it was very tasty.  Economy in all things.  Although Scamp wasn't too pleased to find herself chewing on a cardamom seed.
I did manage to get  sketch done.  Not my best, but as ever, it's done a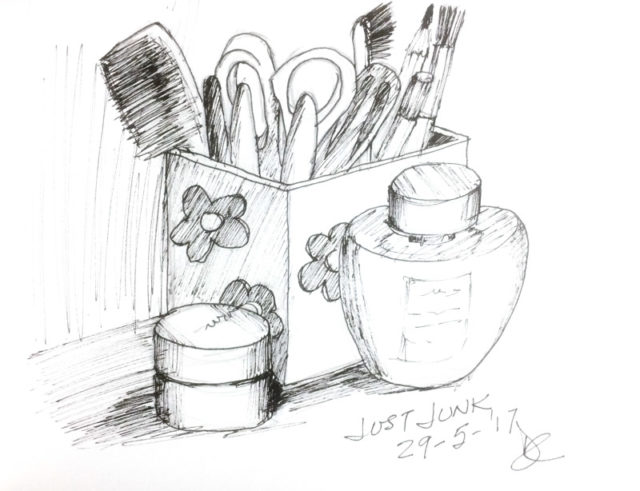 nd almost on time.
So dull, duller, then rained, didn't totally tell the whole tale.  It never does.