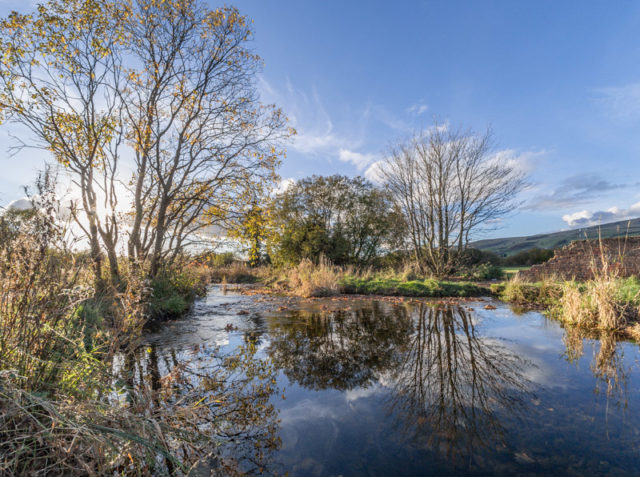 Today I thought I'd go to the gym, or maybe a swim. Instead, I did a bit of sunbathing.
Well, Sunbathing might be a bit of a stretch, but a walk in the sun, now that would be a more pleasant way to spend the afternoon rather than swimming in a crowded pool or sweating it out in the gym.
That's what I did. While Gems were being put through their paces I was making paces along the canal and across the plantation then back to the car. The light was beautiful this afternoon. One of those days with golden light. Managed to miss a lot of the good light, but also grabbed some too so I did bring some of the sunshine home with me in the little black boxes with the glass things in the front. PoD went to the one you see at the top of the page. It took a bit of post-processing which I won't bore you with, but it went through a couple of pieces of software until I was happy with the result.
Driving home I came to the roundabout at the bottom of the road to find a blue car, maybe a Ka sitting on its roof with the windscreen in smithereens an the doors wide open. A crowd round it seemed to be consoling a young asian girl who looked as if she was in shock. Not the sort of thing you see everyday! When we went out to salsa tonight I noticed that two of the steel barrier poles on the roundabout had been flattened, I presume by a flying blue car. Nobody seemed to be seriously injured, but someone was not going to have a happy Monday night.
After I came home I settled down to sketch a bowl of pears that was just sitting there waiting to be recorded on paper. I was quite pleased with the way it went and decided to put it away and have a better look with a more critical eye when we came back from salsa.
Tonight was Jamie Gal's Halloween Party – for the advanced class. Some dancers who had fallen away a bit appeared to bolster our numbers and we all had a great time. Played the Hat Game. Everyone tries to grab a hat from the present wearer's head and when the music stops the wearer gets a prize. Simple and funny. In the past it has led to fights on the dance floor with bodies rolling around shouting "IT'S MINE!". We were a bit more restrained tonight. Jamie had a new game "Sort of ready". Which usually means he has the gist of it, but some of the a lot of the details need ironing out. The basis of the game was that we'd dance a Rueda until somebody stopped the music, then there would be a task given out. The task was to grab a roll of toilet paper from a stack in the middle of the floor and wrap up your partner like a mummy. I thought we did well, but Thomas went just that extra mile and ended up with some toilet paper stuffed up his nose as well as being wrapped in it. Probably the best game Jamie has invented recently. He tried to film some of our legendary Dancing In The Dark Rueda with his drone, but it didn't want to play nice tonight and I think he aborted that part.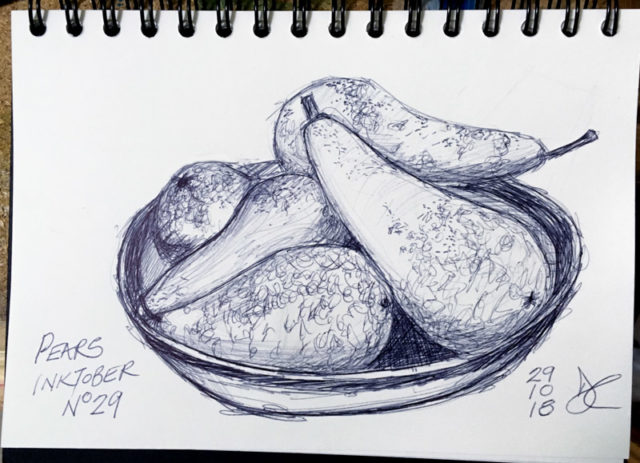 Came home and reviewed the sketch, changed some bits, but basically just cleaned it up and posted it. Inktober 2018 No 29 in the bag.
It's cold tonight again. Just 0.5ºc. Tomorrow we may go to Perth.