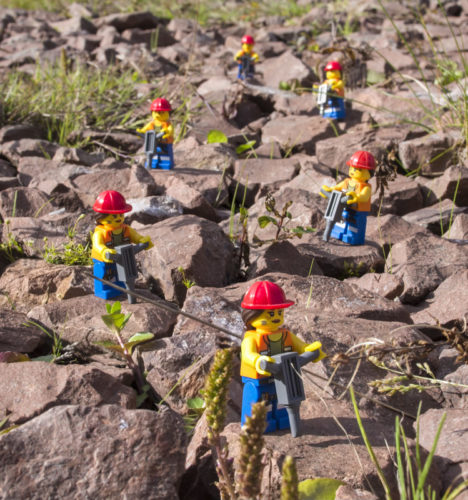 Something I hadn't thought about before I saw there was a group on Flickr devoted to it. So I tried it, and it worked.
The day began with Scamp going out for coffee with one of her friends. I stayed in, half intending to slap some watercolour on a bit of paper, but inspiration wasn't there, so I started into my plan to thwart those pesky birds I suspect of stealing my leeks. Twice, or is it three times now, I've planted leeks and watered them in, only to find that they'd disappeared the next morning. JIC has now had the same problem. I don't think it's slugs because there is no sparkly slime across the raised bed and besides it's been dosed twice now with slug nemesis nematodes. It must be birds. When I asked Colin last week, he agreed that the wee feathered buggers were the culprits. I had thought of buying a shotgun, but that was a bit severe and besides, the pellets would probably damage the kale that's growing quite well now. Then there would be the noise and I don't want the polis coming to the door asking if I have a license for a firearm. No prevention is better than cure, quieter and less damaging to the environment too.
I'd already planned it out, sort of, so I got some bamboo canes and cut them to size then used cable ties to tie them together at the top to … Now look, this is far too difficult to describe. Imagine a ridge tent. An inefficient ridge tent because it's covered, not with canvas, but with netting. That's the basis of the bird keeper outer. Hopefully it will work. We shall see in the morning. If the leeks are still there then it was a success. If not it's on to the internet to find a supplier of shotguns. Ebay, that's the place to go. Ebay for the Dark Web perhaps.
When Scamp came home the bird keeper outer was finished and looking … reasonable. I had just finished my lunch and was thinking that I might go out in the sunshine and take some of my lego weemen out for a run on the Dewdrop. Weemen were originally all men, but now some female minifigs have made their way into their midst but the name can still apply because the singular for a woman in West Central Scots is Wummin and the plural is Weemen, so it works. Set up the scenario on a bit of waste ground covered with big rough chipping. Set the camera up on a tripod and shot ten or so frames while moving the lady road mender around between each. Back home I layered up the shots and used masks to remove the bits I didn't want and reveal the weemen. Like the bird keeper outer it's easier to see than explain and it doesn't need any cable ties either. The resulting image is PoD.
I think we are on our way to getting the dripping tap fixed. Unfortunately it looks like we'll need a new tap, rather than fixing the old one. I was coming round to that conclusion after so many plumbers seemed to reject the idea of fixing the old tap. In the end, it doesn't matter. I just want the Japanese water torture to stop. It's driving me more crazy than normal.
Guess what happened today. Michael phoned to change the time of tomorrow's class to an hour earlier. Actually it suits us better to go then, because it opens up the afternoon. So dancing tomorrow.