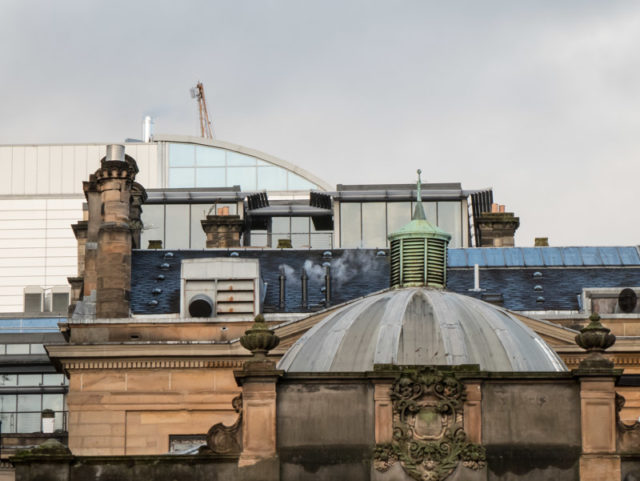 Almost made the 11am cut-off.
Just after 11am I took a the new little brown job out for a walk in St Mo's along with a few of my little bayonet fitting pieces of expensive glass. It was a dull day, but I wanted to see how it coped with dull Scottish weather. The answer was, not all that well. The kit lens was fine, but when I put on the macro, it just didn't want to focus. Couldn't work out how to set it to manual focus (Don't worry JIC, almost done with the technospeak) and it has started raining. Didn't want to get the little brown job wet, because it was going back to JL in the afternoon, so it went back in the bag.
I wanted to see how NLC and their helpers were getting on with the upgrade to the footpath. Work is progressing well on the new boardwalk, but less than half the footpath has been tarmacked so far. Hopefully it's a temporary setback.
Home just in time to stuff a piece 'n' bacon in my face before getting ready to drive in to Glasgow.
Michael was in charge today and no sign of Anne Marie. We started off by dancing Over the Rainbow with the 'expert girls', then Michael began correcting some of the individual elements. The bane of my life since last week, Spin 4, was amongst them, but his teaching was clear and not all that repetitive. It was going to be ok. Messed up a few of the moves in the new routine, but that was to be expected. Then it was time for waltz.
We made a small mistake at one corner and he started tearing our routine apart. Told us we were doing it all wrong. Told us we'd missed out two steps. Now Scamp is brilliant at getting the counts right and she argued with him that although she'd made a mistake at the corner, the rest was fine. So he took her through some steps we'd never seen before and tried to baffle us with maths. It didn't work. We both told him that we'd never seen those steps before. He seemed to lose it at that point, shouting "Check your phone. Check your phone." I told him I didn't need to check my phone, I knew we were right. (I did check tonight and we WERE right.). Then he switched to Quickstep, but not before he had danced the proper routine, the one we recorded about a year ago, the one I checked tonight, and said that's how it should be done. He wouldn't listen to us when we told him that was a different set of steps from the one he'd done, not ten minutes before, but he'd switched on his Rubber Ear by then and was hiding behind it. I don't know if he realised it was all over by then, but we had.
We walked up through the Christmas Market on George Square and bought two Coconut Buns. Delicious cold, but heavenly when warm.
Back home I got instruction from Scamp on how to make a stir fry and I showed her how to thread the needle on my sewing machine and how to do the basic stuff (all I can do, to be honest).
Sitting watching The Apprentice I started fiddling with the Little Brown Job (it's got tan coloured leatherette trimming) and found lots of interesting and useful things. Lots more than just manual focusing. It's a keeper.
PoD was some stacked architecture from Glasgow.
Tomorrow we're booked for coffee with Crawford & Nancy.