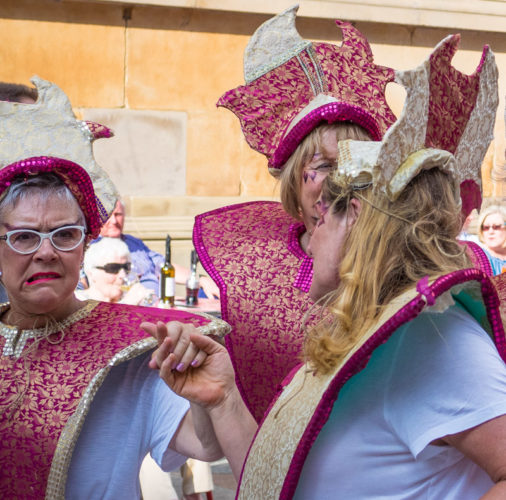 A day for celebration in more ways than one.
In the morning, we spoke to Hazy for a while and hopefully took her mind of the rising temperature in London. Then, while Scamp was out being made even more beautiful, I cut five buttonholes in the LEFT side of the waistcoat. I reminded myself that it was the LEFT side every time I picked it up, just in case of last minute errors. Then I carefully hand sewed the buttons on to the right side, carefully, because I'd pushed a needle into my thumb a few times when I was practising this skill. No blood was spilt this time and when I finally stitched the belt buckle to the back of the waistcoat, it was finished. Not only that, but it fitted too with just an inch or so to spare around the waist. One happy bunny. Well, actually two happy bunnies because I think Scamp was almost as happy as me when she returned and saw the finished article.
After a quick lunch we went for a walk down the Luggie in the hopes that there would be a breeze to cool us, because it was extremely hot. Over 30ºc in Scotland it simply ridiculous. It wasn't much cooler, but we did walk the length of the. Luggie and I got some photos, but none of them made PoD. That came later.
When we got back we took a trip in to Glasgow to see the start of the Merchant City Festival. We've been for at least the last two years and it's always been fun. Today wasn't. There was supposed to be a parade, but it seemed that three or four groups of performers were strutting their stuff along the street, posing for photos from anyone holding anything that looked like a camera. I took a few, but my favourite, and PoD was a candid of a woman whose expression said that she didn't want to be there. Maybe it was just that I'd caught a fleeting glance, or maybe she was as bored as I was. Bumped into Kul (Kulwinder) who we haven't seen for years. Also caught up with Mhairi who had a stall in the handicrafts area. The whole street area was as congested as it usually was, but where were the little icons, like the Cavemen from three (?) years ago? Where were the Mr Mackintoshes with their chairs from last year? No sign of the scary French-type dancers who we're sure were part of Christine & The Queens group. The whole event seemed a bit flat. On the way out we bumped into one last salsa dancer. We don't know her name, but she's John's partner, dance partner at least if not life partner. Crazy in a good way.
Back home we had a fish supper each for dinner and prepared to be melted during the night. Wish we'd bought a fan!