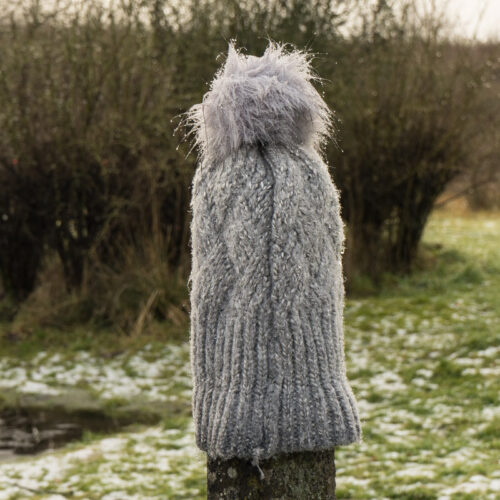 A different researcher this time, another lady. Same tests unfortunately.
We had an early(ish) appointment this morning. 10am is early for us, but we were there, ready for the tasty swabs (yuk), but feeling better about it because we had been paid last week and Scamp had already spent half of hers on foodbank food in Tesco. I'm planning to do the same this week. Today's Q&A only lasted fifteen minutes because we're getting a bit more prepared for the questions. However the ONS are keeping us on our toes by adding questions and re-writing others. Sneaky.
With the test done and the world starting to defrost a bit, I volunteered to go for a walk in St Mo's to check out the state of the paths and the general 'walkability' of the place. I also planned to take a few photos, of course.
I was intending grabbing a shot of a woolly hat sitting on a fence post. I'd seen it a couple of days ago and thankfully it was still there. Don't know why this particular piece of headwear caught my eye, but it did and it made PoD. I took a landscape of the snowy wastes on the edge of the pond too, more or less a record shot, but it also went in to Flickr. The last one to enter today was an old shot from 27th January 2020. It was taken with the Nikon D7000 from the back bedroom looking towards the Meikle Bin and with a bit of jiggery pokery it looked presentable. It fits my new category of Throwback. I see a lot of folk on Flickr doing it and thought I'd have a go.
After lunch I convinced Scamp that a walk round St Mo's was possible, so we booted up and walked the wild and icy paths round the pond. I won't say it was the most interesting walk we've had, but it got us out in the fresh air for a while, fresh air and drizzle to be more precise.
Back home I ticked off one of my tasks for the day and wrote an email to the Auld Guys. Just a catch-up to say how we were spending our time. So far, only Val has got back to me. I'm going to suggest we try a five way video call using Zoom. It might work for some it might not for others. It's worth a try.
Scamp and I had discussed changing the date for what would have been the Easter cottage holiday. It was either change the date or cancel. We settled on changing the date to July and that's now done. Hopefully we will have been released from Lockdown by then.
Next thing to do was to phone John Malley and that's what I did. Marion is teaching from home with two live teaching sessions per day and then four single person video calls for pupils having problems with the work. Ross is still working from home and Laura is now engaged to (Big) Ross. I think that's you all caught up with what's happening in Hamilton and area.
Dinner tonight was a superb Fish 'n' Chips with beetroot and tomato sauce. Home cooked, of course by the pescatarian cook.
Most of the snow, slush and ice has now gone and the paths are preparing for the next load to be dumped on us, perhaps tomorrow morning. If it's dry we'll go for a walk. Maybe a drive then a walk.