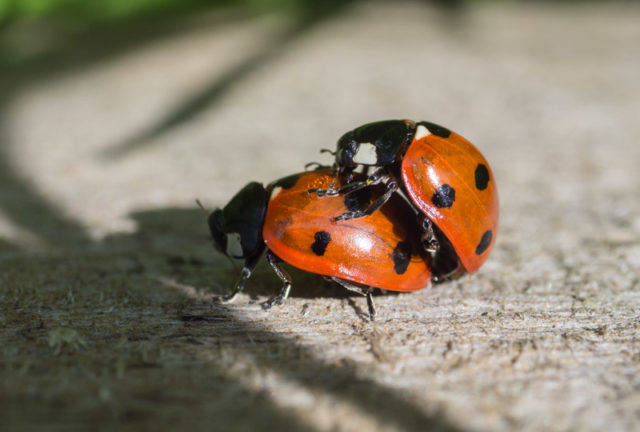 In the morning we went to a funeral. After that the day started.
In the morning we went to Crawford's brother's funeral. Funerals have a tendency, like black monkeys (or black dogs if you prefer) to stay with me all day. This one certainly did. We went home, got changed and drove to The Smiddy near Doune for lunch.
The drive helped to take the feeling away. That and the sunshine that we enjoyed all day. Baked Potato with Veg Chilli helped too. Scamp had her usual Macaroni and Cheese with Chips. We hadn't really intended having such a full lunch, but the food in The Smiddy is usually very good and difficult to refuse. Outside I went to take some landscapes shots in the beautiful light that always appears near this restaurant. I did get a few, but then I managed to grab the photo that became PoD. Ladybirds doing some very unladylike things! From there we drove through Doune to Dunblane and M&S Food (more food? I hear you ask). After that it was a straight run home.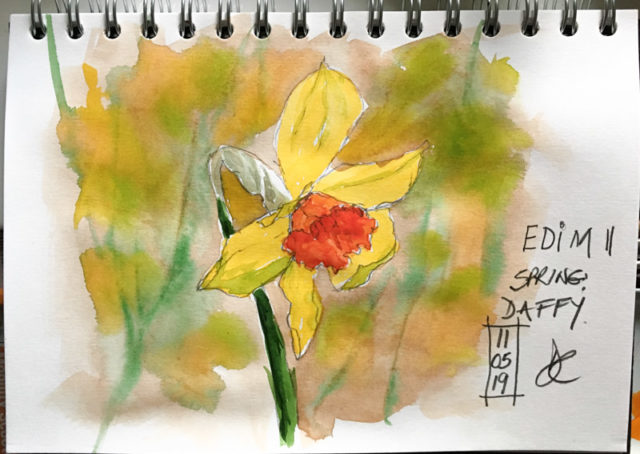 Tonight's topic in Every Day in May, number 11, was Spring. What is more springlike than daffodils and it was a single daffy that became my sketch/painting today. I liked the blurred background, but Scamp didn't. She liked yesterday's painting and I didn't. I'm glad we don't agree on everything. That was about it for today. Scamp has more plans for the garden and maybe has a storage place for the new table. I ripped out some weeds from the retaining wall at the back of the garden and noticed that quite a few of the facing bricks need replacing. Managed to rip out a fairly large nettle and got a lovely sting from it right through one of Scamp's heavy duty gardening gloves. Scary things, nettles.
Tomorrow looks like an even better day than today. If it lives up to predictions, we may go somewhere nice. Destination unknown at present. If not we may go dancing. It's a wait and see kind of day.