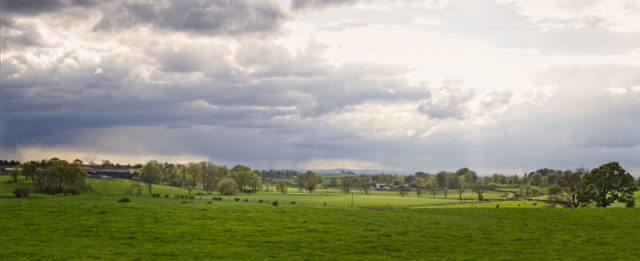 The day started well, and then it stalled at B&Q.
It was a lovely morning. Really too lovely to lie in bed, but that's what we both did. That's what happens when you're stuck in a good book. You waste the best part of the day.
However we did eventually get going and of course Scamp was out sorting the garden again. Planning new layouts of plants, new colour schemes and sometimes, just new schemes. However, she did get a chance to use our new garden table as a potting table. So much more sensible than crouching down filling pots with compost. Better for the back. Then she was off to get her hair cut while I messed around on the computer looking at stuff, electric shavers and such.
After lunch she was stuck in the house because it was raining, really raining. I went off to The Fort to buy the electric shaver of my dreams. Not quite as posh as some people with their Series 9s with their cleaning modules. Mine would be a Series 5, but a big step up from the old blunt Series 4 I've had for about fifteen years, we think.
On the way back I spotted some beautiful light beginning to build, so I stopped and photographed it of course. Not on the motorway, but down a wee side road on the outskirts of Cumbersheugh. I didn't have time to change lenses, because the light itself was changing rapidly, so instead I took three shots and intended to combine them into a panorama in ON1. I think it worked very well. I'm very impressed with that application.  Oh yes, and while I was there I saw the first swallow this year.  This is week 19.
Back home is where the bother started. The plug that came with the shaver didn't fit our old shaver adaptor. No problem I managed to slide the contacts in until the shaver started charging. After dinner (Simple Fish Stew from yesterday) Scamp was going to the choir concert with Isobel and I'd volunteered to drive. After dropping her off, I went to B&Q to get an adaptor. Saw one for £1.50. Yes, that sounded right. No it wasn't. Checkout girl said it was £2.65. Nope, I said, ticket says £1.50. Her supervisor said £2.65. Long story short. I went and checked, photographed said box of adaptors and the price ticket, but it made no difference. The supervisor wouldn't believe the photo. The price was £2.65. The arrogance of that woman really got to me. Her mantra must be 'The Customer Is Always Wrong'. I left without the adaptor. Have you ever tried writing a complaint to B&Q? There is nowhere on their website where such a thing is possible, believe me, I spent half an hour scrutinising the website, but they must be so perfect, nobody ever complains. Either that or they've hauled up the drawbridge, lowered the portcullis and are all running around with their fingers in their ears, saying "NOPE, NO COMPLAINTS HERE". I did eventually get my complaint written and sent to somewhere in the system. We'll see what happens next.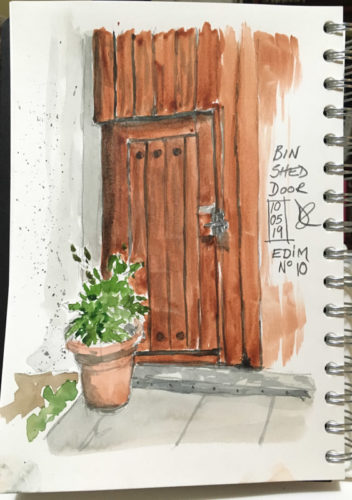 Today's topic is A Door. My answer is the Bin Shed Door. It used to house the bins, but now we have four different types and different sizes of bins, there's no room for all of them in the shed. Now it's crammed full of gardening stuff, that's why it's firmly closed and the snib is down!  Not perfect, but I like the pot of Honeybells on the doorstep. That makes up for the rest of the painting.
Tomorrow we're going to the funeral of Crawford's brother. After that, the day will start.