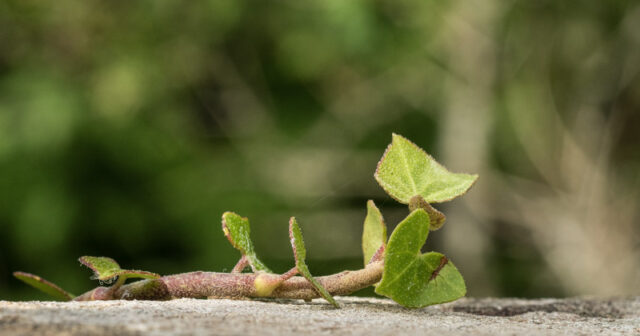 Out after a quick coffee this morning to meet John.
Drove to Chatelherault to meet John. We were going for a walk in the Chatelherault Estate to talk about cameras, apertures, shutter speeds and the mysteries of ISOs. Things I've been using for years and years, but never really had the chance to explain to anyone. Well, that's not entirely true. I've talked about them to lots of folk, but very few of them listened. Even fewer understood a word I said. Someone said of photogs, that they could conduct an entire conversation using just letters and numbers. I'm not sure that's entirely correct, but there is a semblance of truth in it.
We started off going over the Duke's Bridge and on past Cadzow Castle which is pretty much a ruin now. It would appear that the restoration has hit a roadblock, judging by the fact that nature has more or less covered the scaffolding that was erected about ten years ago. John took us up to the Cadzow Oaks which are much more impressive than the ruined castle. They are reckoned to be over 800 years old and as someone commented, they look like how you'd imagine Ents to look in The Hobbit. They surround an area of earthworks that may have been the groundwork for a castle that would predate Cadzow Castle and may have been Roman in origin.
Ah, but we weren't out to do historical stuff, we were there to take photos. The weather was mixed. While we were sitting talking beside the oaks the light was constantly changing, making it difficult to get any decent shots. That's my excuse anyway. I tried to explain the basics of exposure, using the triangle of Aperture, Shutter speed and ISO. I don't know if I covered it all that well and I'm sure I didn't explain it as lucidly as I'd have liked, but it was a decent day, and we were out for a walk. While we were photographing leaves and moss on an old (not oak) log a woman stopped to comment on the shapes the lichen was making. She had a dog with her. A white dog with a face like a lamb. When I got home that's how I described it to Mr Google and he informed me it was a Bedlington Terrier. We, John and I went for coffee and a cake before we parted company. He was determined to walk home, I was driving.
Got a bit of a fright on the M73 passing a Land Rover which was tootling along doing about 50mph while I was in the outside land doing a neat 70mph. Then the Land Rover started sliding across into my lane. Whoever was driving must have seen me at the last minute and swerved back into their lane as I took evasive action. In my rear view mirror I saw them indicate and fishtail onto the hard shoulder. Glad of the dash cam which caught the incident nicely! The clip is now downloaded just in case.
Dinner tonight was chicken stir fry made by Scamp of course. I don't do stir fry. I won't say can't I can, just not as good as Scamp. After that we watched the final episode of Series 3 of Line Of Duty. Irritatingly, halfway through it I remembered how it ended. It didn't detract from the build up though.
PoD was of ivy growing on the Juke's Bridge at Chatelherault.
Tomorrow we may go to Glasgow, just for the run and the dash cam will be on!