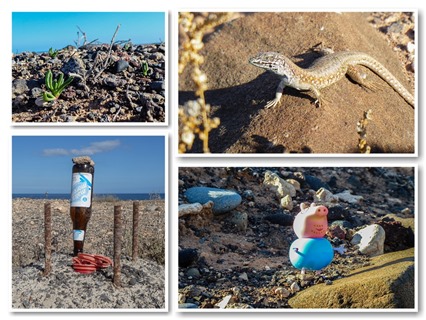 Today we were walking down to the harbour with a stop on the way for a drink perhaps.
After breakfast, that's what we did. We plastered ourselves in suncream as per usual and walked around the bay to the new harbour. It was only after we got back that I checked and found that it's been 'new' since at least 2014, the last time we came to Caleta. We had coffee at the new El Faro bar. Lovely views across the bay, but the 1/2 litre of sangria we had yesterday for £5.50 would have cost us £8.50. We had coffee instead. Walked out to the San George hotel and just a little bit further on to the cliffs. Decided that was far enough and headed back, past the Dorido Suites hotel which is not being demolished, but is being 'renovated'. I think that means the balconies are being rebuilt. Interesting to see the quality of the blockwork!! Glad we weren't booked there an don't think we'll be going there any time soon.
Back at the Elba we were in time for lunch which had to be reduced in quantity as we were going to the Italian waitress service meal tonight. After lunch Scamp decided to do some more sunbathing while I went for a walk to try to get some sketching done. I'd already completed my 10,000 steps for the day and this was just a little extra exercise. I walked along the pedestrian path to the Museo de la Sal, the museum of salt! The result is shown below: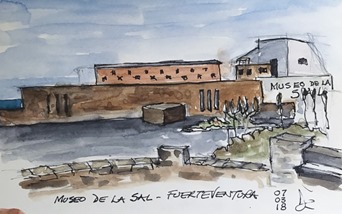 By the time I'd walked back, my 10,000 steps had doubled to over 20,000, and it was time to get ready for our Italian meal. We both started with a selection from the buffet, then Scamp's main was Vegetable Lasagne which she said was "warm on a hot plate". Mine was Spaghetti Puttanesca. which was lovely, although the sauce was quite thick. Pudding for me was a "Disgustingly lovely" ice cream on a mascarpone cream. Scamp just had to have Tiramisu. A great meal with coffee and a bottle of wine added in for free.
Evening entertainment, apart from Pepe, was a dire soul singer who thought he was every real soul singer in creation, but the star attraction was 'Mr Sleazy' from last night reliving his even sleazier youth with some seriously bad dance moves. Oh dear, I hope I never look like that.
PoD was the upside down beer bottle, entitled 'Reeb'. Work it out yourself.
Tomorrow? I might find the church behind the museum, but I'll be going by bike, hopefully. Scamp says she's hoping to be grabbing some more rays!