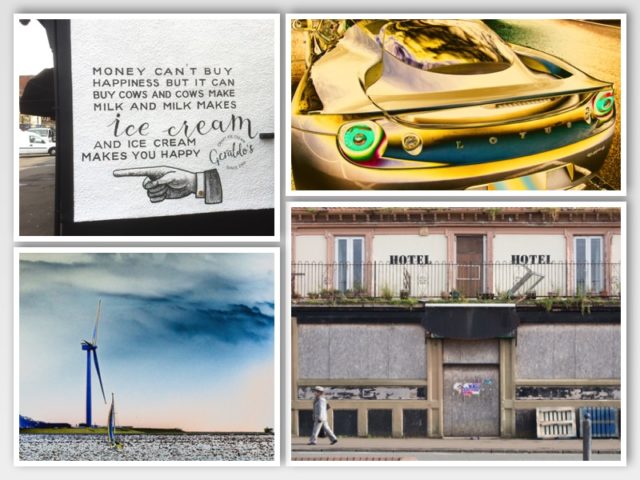 Today we drove in to Glasgow.
We couldn't get parked and it was such a great day, we drove out of Glasgow again and headed west along the M8.  We just kept heading west until we reached Gourock.  Along the way I took a wrong turning and that's how we reached Largs.  (Confused yet?  You should be)
Largs is the gateway to Millport across the wild ocean, well, across the Clyde estuary, but that's not where we parked.  We parked in Largs and wandered around this metropolis.  It didn't take long.  Largs has a great butchers, a great fishmongers and a couple of good restaurants.  Not that we're foodies or anything!  It also is the gateway to Millport, but I've covered that.  We had lunch at the restaurant we went to last time Bean & Leaf.  Neither of us could remember what we had last time, but we agreed that it had been excellent.  This time Scamp had a Cajun Chicken Burger.  Served with hand cut chips.  I had a burger with everything.  Everything in this context was a Handmade Scotch meat burger with Barwhey's cheddar, crispy Ayrshire bacon, fried onion, pickled gherkins & salsa. Served with hand cut chips.  Now that's a mouthful and no mistake.  The food took a while to come, but I remember being told on one of the Royal Caribbean ships that it takes 20mins to cook a real burger properly.  Tell that to Micky D's.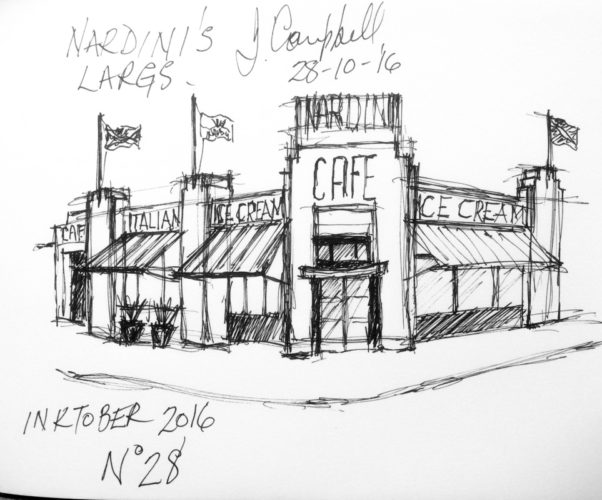 After lunch Scamp went to investigate a couple of shops and I started my sketch which was to be Nardini's Cafe.  Nardini's is one of the places you must go to when you're in Largs.  The other is the ferry to Millport, but I think I mentioned that earlier.  We didn't go to Nardini's this time, but we have been there a few times.  The frontage is pure Art Deco.  All rectangular columns with rebates in a colour scheme of black on white.  Very stylish and any changes that have been made to it over the years have been in that same Art Deco vein.  An icon.
I think I did it justice in the sketch and was quite pleased with it.  I'm beginning to like drawing with the Derwent Graphik 0.1mm pen.  I'm thinking about buying a 0.05mm pen too – SuperFine.
The rest of the day's pictures were taken around the front at Largs.
The Ice Cream shop sign was a phone-grab.
The car was a superb Lotus, tweaked with a custom curve in Lightroom, then dunked in Photoshop to block out the numberplate.
The Hotel was another grab shot, this time with the camera.  This run-down building was on the front, and looked as if it was ready for the bulldozers.  The woman hurrying by was a lucky.
The sailingboat and the windmill was another custom curve in Lightroom.
Then we went to pay for our parking.  Put in the ticket and Scamp plopped in two 50p coins and a pound coin, but the pound coin didn't register.  Pressed the cancel button and the card came back, but no refund.  Foolishly we put the card in again and loaded some more coins in with the same result.  A bloke came along while I was phoning the help number and he tried the same thing, but with the same result.  Now there were six people waiting for the engineer to come and sort the problem.  Luckily he wasn't long and solved the problem.  It looks like a couple of Scamp's home made 50p coins had jammed in the machine borking it.  She really must be more careful with her quality control.  Anyway, problem solved and we were on our way.
We headed north and passed through Gourock (see, we did go there) and crossed the Erskine bridge to avoid the inevitable queues on the M8, into the biggest traffic jam I've seen in a long time.  Drove at an average of 20mph all the way home.  All in all, a lovely day.  The weather was simply superb.  Not wall to wall sunshine, but lots of sun and some blue sky.  There was a great sunset forming behind us as we were heading home, but I knew the traffic would only get worse if we lingered to see it and to be honest, we'd had the best of the day.  Only one thing was missing.  We didn't go to Millport.  Maybe next time.