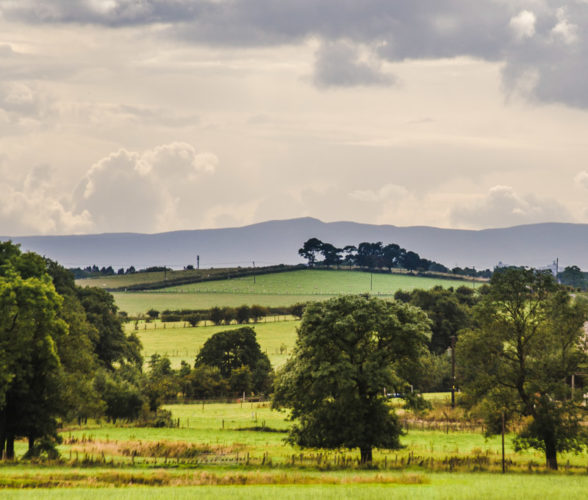 Four quid too!
Scamp was out in the morning and that gave me time to start painting my latest masterpiece. It was to be an abstract seascape. I tried using the Inktense sticks, but they didn't look right once they were down. I think the colours are too 'cold', especially the blues. I'll probably just paint over it again with acrylic tomorrow.
After that and after hanging out the washing, I went to meet Val and Colin. Coffees all round. Fred was missing because he'd to stay in to keep the plumbers on the right lines when they were rebuilding his bathroom. Colin very kindly brought my photos and painting back from the flower show, along with my winnings. Four quid for two firsts and a second! The little piggy watercolour got a first and the landscape of Quiraing also got a first in the photography section. My favourite landscape, Murdo's old tractor with the Quiraing behind it only got a second. Now it could have been that there were on two photographs and one painting in the competition, I don't know because we were down in England at the time, but Colin did say that competition was tough, so I'm thinking that's good enough for me. I'm now considering entering the little piggy in the Venice Biennale. I think it has a fighting chance.
Came home and realised that I didn't have a photo for today, so got my cycling shorts and long sleeved top on and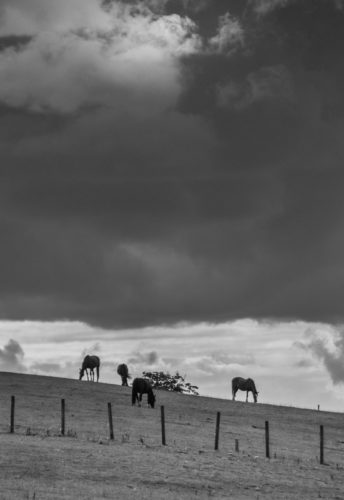 took the Dewdrop out on the back road to Kirkintilloch. That's where I got the PoD. I also got a fairly good shot of these four horses in a field under a glowering sky, but the landscape felt more luminous, so it won.
Fell off the bike on the way back. I think the SPDs need some adjustment or maybe some grease. Left shoe is sticking a lot. Amazingly, the right pedal is fine although it's caked in dried mud. The left one is shiny clean and it's the one that's sticking. Can't fathom it out. I'll grease them and see if that helps. No harm done in the fall, just my pride, but luckily there was no-one there to see me!
Dinner tonight deserves special mention. It was Chicken Milanese with potatoes and a big hunk of broccoli. Scamp showing just how good a cook she is. Absolutely delicious.
Tomorrow Scamp is out to lunch with the witches. May take the Dewdrop out again along the same road as today. I've a hankering to climb the Kirky Volcano. It's actually an old pit bing, but from certain angles it looks like a volcano.