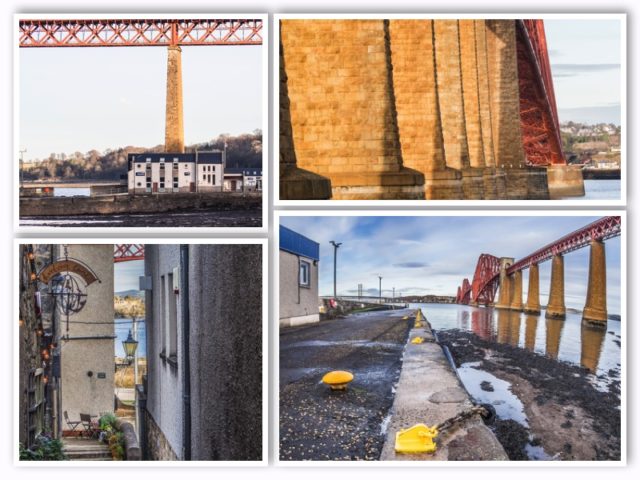 So, what of the day then? Well, it was cold when we woke this morning, sub-zero in fact.
We'd half intended to go to Embra, but as we both slept a little longer than we'd intended and as we then read a little longer than we'd intended, it was really too late to go to 'Auld Reekie' today. Instead we decided to go to South Queensferry. It's a great place on a cold, bright, clear day and today fulfilled those specifications perfectly. Surprisingly, we found a parking place right away and then when we walked through the main car park we found there were lots of spaces. After yesterday's experience, I guessed that everyone was in Embra or Glasgow today, frantically searching for just the right gift for someone. Maybe someone they don't particularly like, while that other person is also searching for something someone else won't like Both of these 'gifts' will soon find themselves in the council tip or in a charity shop. The recipients will be ultimately disappointed and the buyers will be out of pocket. The only winners from Xmas are the shops. Will I be taking part. Of course I will, because that's part of the game, isn't it?  We walked under the old bridge and that's where most of the photos came from.  PoD was of the pillars, top right.
There were a lot of Asian tourists here. Maybe they were on a visiting cruise ship, or maybe it was just the one family and we just kept meeting different groups of them. We seemed to bump into them a few times as we walked along under the railway bridge. After that, we walked through the town of South Queensferry and Scamp remembered us sitting outside in a pub courtyard in warmer days, and as it was a pub courtyard, and there would be beer involved, it must have been a few years ago in more relaxed times. She also liked the way spaces in the lines of shops had been used to provide windows on the Forth and the bridge, the old bridge, the real Forth Bridge. She's developing a good eye, is Scamp.
I think Scamp was really set on having lunch in the Italian restaurant we've been to a few times in Queensferry, but when we passed a second time, it was empty. An empty restaurant is not a good sign, so she made the decision to go to a busy one we'd passed. The fact that it had big picture windows was not a factor, honest. We had burgers for lunch. Chicken for Scamp and beef for me. Both lovely. I even had a Becks Blue with 0.05% alcohol, while Scamp had a latte. The only drawback was that the picture windows on to the main street had the low, bright sun shining straight in my eyes. I eventually gave in and allowed Scamp to move round the table so that I could sit with my back to the sun. The bonus was that we could both watch the tiny wee trains passing over the Forth Bridge.
Paid for lunch, walked back to the car and drove home. Took a wrong turning on the way and got the sat nav to help us out of our difficulty. It took us down a single track road, round a very posh looking farm conversion and then back along the single track onto the main road, then got us onto the M8/M9 perfectly with ease. I presume the detour round the posh houses was its version of 'perform a U-turn when possible.'
Still cold tonight with the threat of snow. So, as to what we're doing tomorrow, as Scamp says, it all depends on the weather.