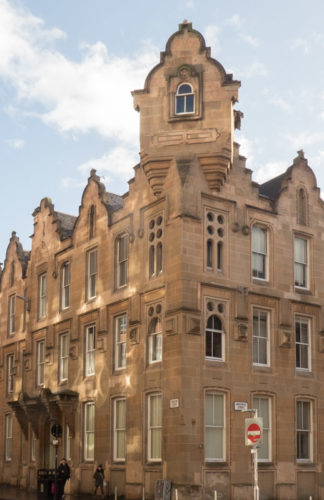 Not dancing all the day, just dancing.
Drove in to Blackfriars and 'wasted time' taking a picture of the building above while we walked down from the carpark. Every time I've passed the Ingram Square Building in the Merchant City I've liked it and wanted to photograph it, but the lighting had to be just right. It was today. I particularly like the angled turret at the top and the reflections from windows across Ingram Street. At the class we got an extra ten minutes practise. Our Jive moves today were Baskets, Step Over and Ladles. That will probably be gobbledegook to most of you, but it will act as a reminder for us, hopefully, next week. Waltz was getting a lot better according to Michael, but we didn't do anything new. We didn't really get any Quickstep done because I wasn't feeling too good and we left early, just five or ten minutes early.
Why is it, when you're in a hurry, that's when the motorway jams up. That's what happened today. Just about to join the M8 going home and everything ground to a halt. It turned out to be a three vehicle accident spread across the two exit lanes for Stirling. Luckily it didn't close of the entire length of the exit lanes and we found our way back on in the great snaking line of cars and vans who were also Stirling bound.
Dinner tonight was the remainder of the chilli and Scamp was back to home food with a baked potato and tuna. Dessert was an excellent Neapolitan Choc Ice each from Tesco, where else!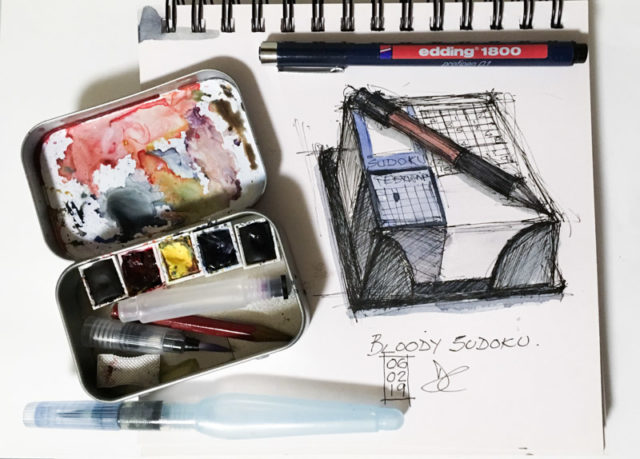 Doodled a sketch of a horribly difficult Sudoku grid and that is my sketch for 28 Drawings Later. Not as detailed as some and not as colourful, but it fulfils the two requirements:  Done and On Time.
Tomorrow, hopefully a lazy morning to prepare us for a busy afternoon.