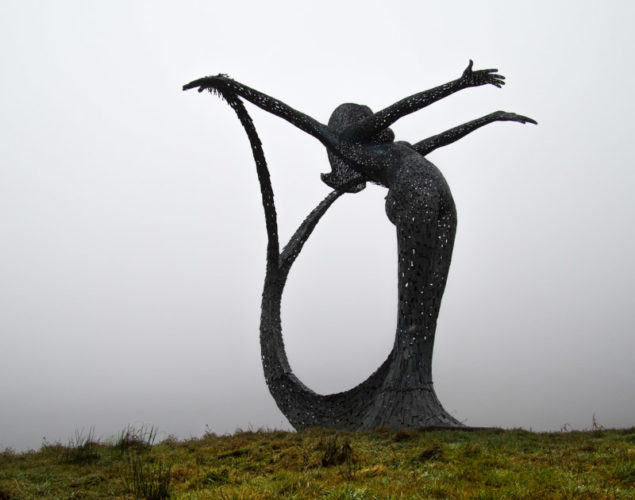 The day dawned dull and wet, but no fog.
However, by about 11am the fog van had arrived and was dumping its grey load on Cumbersheugh. We sat discussing what to do, and it was me who suggested going for a swim. It turned out to be a great idea. There were two people in the jacuzzi and one woman swimming in the pool when we arrived. Unprecedented room in the pool. We were only going to the pool, because we weren't feeling energetic enough to attempt the gym. We spent just over half an hour enjoying the freedom of the facilities before we headed for home and lunch.
After lunch I drove to B&Q to get some silicone to reseal the shower cabinet in the bathroom and to get some photos of the statue of Arria which stands above the M80 and at the back of the graveyard. It was getting dark by that time and I was surprised at the number of people out walking dogs in the grey gloaming.
Came home and noticed when I was getting the fish out of the freezer for tonight's dinner (simple fish stew) that the meat I'd put in yesterday wasn't frozen. I think I might not have closed the freezer door properly and so we had to set the machine to fast freeze just to make sure that everything was frozen properly. I think we've managed to catch it in time. It was mainly the meat in the upper compartment that was affected and most of it is either needing to be chucked out anyway, or it was only just put in. It's still on fast freeze now and will remain at that setting until I go to bed.
The picture of Arria made PoD as there wasn't much else to compete with it. Like yesterday, I'd hoped for more fog to give it that etherial quality, but by the time I got there, the fog had turned to rain.
Watched JIC and Sim's flight cross the Atlantic and stop over in St Lucia and then carry on to Trinidad, all on Flight Radar 24. Amazing use of technology. Hope you pair enjoy the upgrade in temperature from our 10ºc to your 29ºc.
Tomorrow we may go to Glasgow and we may go to Embra or we may not go anywhere at all. It all depends on the weather.