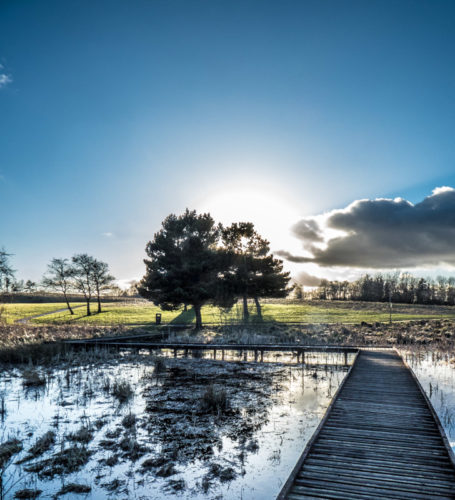 Today we drove to Stirling to get the messages1. For a wee surprise, Scamp drove. It was great to just sit there and watch the scenery whizz past the window. It was a cold day and seemed to get colder as afternoon approached. We walked into Stirling form Waitrose where the 'messages' are. I'd hoped to go to Nero for a coffee and lunch, but Scamp had other ideas. She wanted to go and get the messages before they were all sold to other undeserving Stirling folk. So that is what we did. Scamp was the driver today so she was in charge. I was the passenger, just along to carry the messages.
I remember that on Fridays, it was 'messages night' back in Larky. I'd go down to the Co-op with my mum to bring the messages back home. I had a 'barra' (a barrow) made from an old wooden (they were all wooden in the old days) beer crate and a pair of pram wheels with wooden shafts fixed to the crate to push it. I remember being so proud that I could save my mum the work of carrying the messages the hundred yards or so up Wellgate Street to the house, because I had a 'barra'.
We didn't have a barra today, we just transferred the messages from the shopping trolley to the car boot then we went and had coffee and a bite to eat for lunch. After that, Scamp drove us home and all in bright sunshine, but by now, as I said earlier, it was getting cold.
When we got home I managed a quick walk round the pond at St Mo's and that's where today's PoD came from. No sketch today, I'm heading for bed now because I'm still suffering the after-effects from yesterday although that was really an after-effect from too much dancin' on Wednesday.
No dancin' tomorrow, but maybe some on Sunday. Tomorrow we go for a walk in the park. Oh, yes, and I'll fake a sketch for today!
---
Messages is another word for shopping. ↩