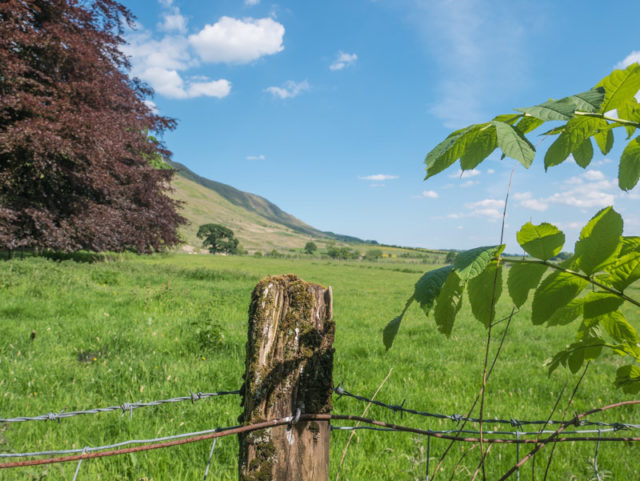 Before I went to see a man about a wheel, I had a look at the upstairs toilet. It's been a bit flaky for a while now with the overflow running into the toilet. Usually it stops after a few minutes, but this morning it just kept running. Not dribbling either, but running fast. As soon as water was coming in, it was going out again. Couldn't find a stopcock in the toilet area, so had to turn off the water at the rising main. Long story short, the plumber is coming tomorrow, hopefully in the morning.
Phoned the bike shop to see what the progress report was on the bike wheel. Basically there was no progress because he couldn't find the wheel. I said I'd drive over and help him look for it. His workspace is incredible. There must be well over a hundred wheels in this tiny little room, all waiting to be repaired, plus another fifty or so rims and well over a hundred hubs. He's a great bike mechanic, but he is so disorganised, it's a wonder he gets anything done at all and this coming from me, a master of chaos. I found my bike wheel right away and after some discussion he said he would start it as soon as he'd finished the one he was working on. Then we had a discussion about what was wrong with the world in general and teenagers in particular. He said he'd give me a ring when the wheel was ready.
When I walked down the lane to my car I saw today's PoD. I had brought my camera of course, for just this eventuality. As it happened, the depth of field wasn't as good as I'd hoped, but I actually like the hills slightly out of focus. It gives more prominence to the foreground which is the interesting part.
Back home Scamp was admiring the new rose she'd bought.  It arrived earlier in a big cardboard box about a metre high and about 30cm square at the base.  It really is an impressive rose and I've forgotten its name already.  Now the search begins for a suitable pot to put it in.  She was tired of sunbathing which she'd been doing all afternoon I think, and wanted to go for a walk. I'd been driving in a hot car for an hour or so and I too fancied a walk. We walked to St Mo's and went round the pond once. As usual, too many people in too small a space. About a dozen teenagers sitting swearing and drinking at the start of the forest. I wondered what Big Al would have to say about that.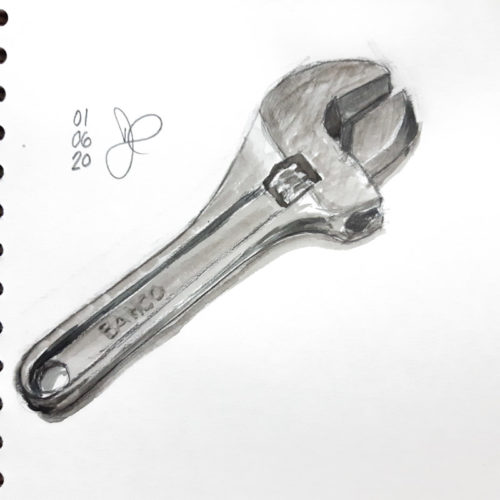 Tonight I was free to sketch anything I fancied. What I chose was my dad's Bahco shifting spanner. A lovely big heavy piece of kit made of Vanadium Steel. It made a good model with curves, straight lines and lots of texture. This was Lockdown Library No 50.  The half century!
At 9.15 my phone rang. Big Al had finished the wheel and it would be ready to pick up in the morning. I think the man must sleep in that workshop.
Hopefully the plumber will come tomorrow morning and I'll be free to go and collect my rebuilt wheel, then we may drive down to speak to Isobel.  However, the weather doesn't look that clever tomorrow with rain forecast and a significant drop in temperature.