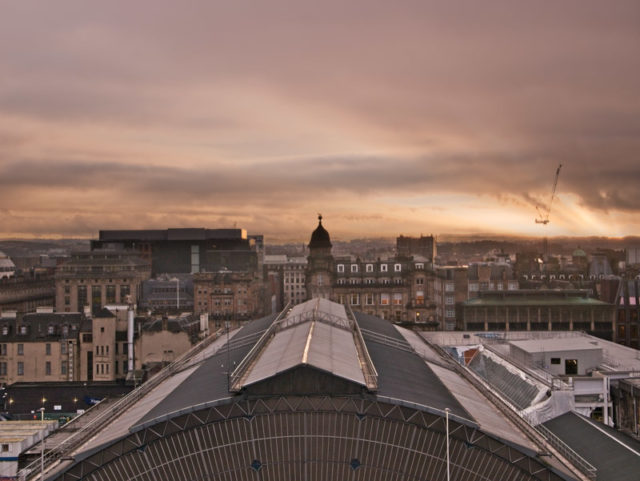 Today we and a couple of million others went in to town to do some last minute shopping.
We decided that we'd drive in rather than freeze to death on a cold bus. It was probably the right decision, but it looked like half of Scotland thought the same way. We had to drive up to nose bleed altitude in the Buchanan Galleries car park to get a space. People were queueing everywhere on level 6 to squeeze into a space between a gigantic Land Rover Discovery and something that looked like a well polished Chieftan tank with alloy wheels. Meanwhile on level 7 we got to choose which of the hundred odd spaces we would grace with our presence. We both agreed on a "divide and conquer" approach and went on our separate and secret ways confirming that we would phone when we were finished or fed up, whichever came first.
I can't remember who cracked first, but I do remember I was on my way to make my only purchase of the day when Scamp asked if I wanted to go to Paesano for lunch. Oh yes, that brightened the day. Actually the weather was quite bright, it was just the crowds of people everywhere that took some of the shine off it. When we got to the restaurant, it was crowded out the door. My face fell as I stood there wondering how long I was willing to wait. Ten minutes? Twenty minutes? Thirty minutes top. Nope, we got taken right away. It seemed that most of those waiting had booked full tables or were waiting for carry-outs. The place was jumping. We had to wait ages for our pizzas, but a bowl of balsamic onions helped stave off the hunger. The pizzas when they came were beautifully well done, mine to the point of charcoal in places. I cannot fault this place. My pizza had a bit too much garlic, but nothing I'd complain about. Scamp got the wrong pizza, but it turned out better than what she had ordered, so she was happy with the extra roast courgettes with her extra rocket and no cheese.
Coffee afterwards in Costa and it was good coffee too. Just goes to show that it's Cumbernauld Costa that's at fault. Too little coffee in their coffee I suspect. Scamp had some extra thing to buy, so I went for a walk, taking some photos. Didn't really like anything I'd done, but I went up to load my single purchase in the car and took some photos from level 7. They were later turned into the PoD by some clever effects in On1.
Back home I struggled to find a way of removing the old HDD from the MacBook Pro and still get it loading. After about five hours of this, I'm back where I started. Tomorrow I've a different plan. It might work. All to be able to take it in to get a new battery.
Tomorrow we've been invited to lunch in the Village by Isobel. Sounds like a good meal too.