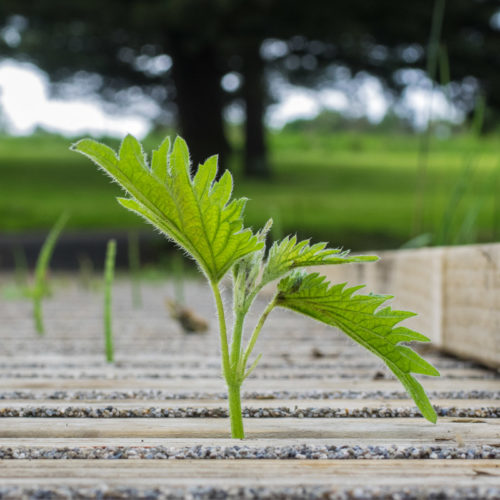 After the rain the world looked a better place. A place we could walk in.
We just got up about 9.30 and went out for a walk. We started off by doing the circuit of St Mo's pond a couple of times and fed the ducks, but also the crows which sometimes get forgotten. Then following on from the success of Saturday's extended expedition, we just walked on for a bit, then another bit and finally walked through the 'new' housing estate opposite St Mo's school. It's not really new, it's been there for around five or six years I'd say, but still relatively new. From the estate we found our way down to the underpass and turned there for home. Scamp was eager to show me a large rhododendron bush she'd found on her walk last week. It wasn't so much a bush as a fair sized tree. We did have a look to see if there were any cuttings we could liberate, but couldn't find any. Pity. It was a really enjoyable walk with everything looking that bit greener after the rain.
Back home and I sorted out some photos for Alex and made some notes for my monthly email. Well two-monthly email. It seems we each take about a month to reply to the emails and we always apologise to each other for taking so long to reply. Anyway, notes made and short leet of photos selected, it was lunch time. After lunch I wrote a letter to Peter H. I don't know if he doesn't do email, but I sent him an email a couple of weeks ago and got no reply so perhaps it was an old address that's still live in name only. He writes letters and I enjoy communication. Signed and sealed I walked over to Condorrat to post it and managed a detour round St Mo's on the way back. Got today's PoD on the boardwalk. Just a wee nettle plant rejoicing in its freedom.
Scamp suggested I make a Spaghetti a la Puttanesca (Spaghetti in a tomato, capers, black olive and anchovy sauce). She doesn't like black olives, so I could have them and she would substitute some tuna. I'd forgotten just how good it tasted. A wee glass of merlot to wash it down.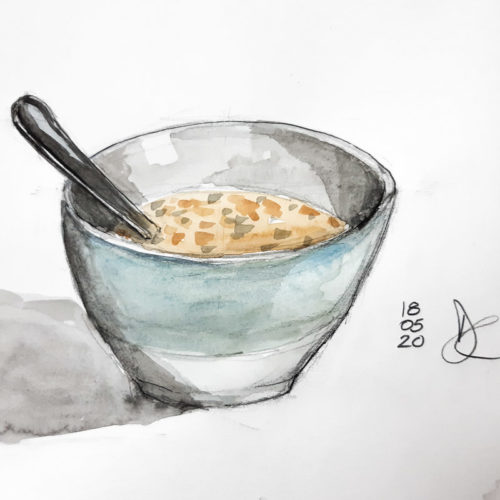 Today's topic for a sketch was My Breakfast. That's mine you see here. I have three different breakfasts to choose from. Muesli, Wheetabix or Porridge. Today was porridge and that's what I drew. I was fairly happy with it, but not over the moon. Spoon handle wasn't right, but I did a practise one later just to see what had gone wrong. I think I've worked it out now.
Got a great photo from Hazy and Neil-D showing off their custom Coronavirus masks. As they were well warned in the accompanying letter, they are guaranteed not to be any preventative at all, but they do look good. First Class post only took a week to go to England!
Perhaps there is an end in sight for our lockdown. If the stars align correctly we may get stage one of the release on 28th May, so the nice Nick the Chick said today. But only if we're good!
Got a painless Click 'n' Collect from Tesco today. I couldn't believe how easy it was. I think we'll do that again.
No plans for tomorrow. Maybe not such an early walk tomorrow. Must try to finish City of Windows.