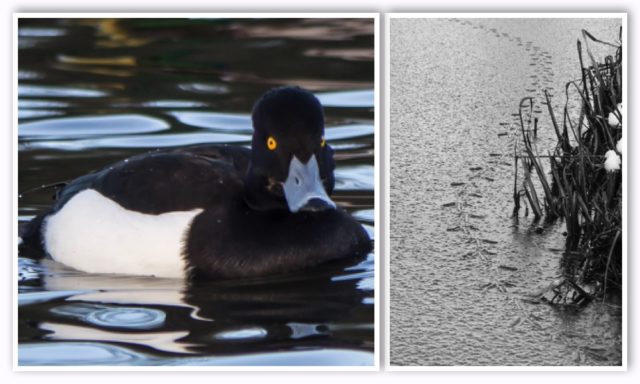 Today I was the driver, taking Scamp to her hospital appointment.
Scamp thought she'd be about an hour and we were in the wilderness of Springburn, so what was I going to do for an hour in this place? Well, there was a park nearby I could see people in the park but I couldn't find a way in to it. I think I drove almost right round it and every entrance was locked and chained. Was it to keep the locals out or the wild beasts of the park in? There was a polis car parked inside. That wasn't a good sign. Then I found a line of cars parked in the street beside a pedestrian gate. Aha, so this is how you get in! I walked around a big pond, but there was nothing interesting to photograph. Then I found a path that took me up a hill and on top of it was what must have been a boating pond. It was now half frozen and in the thawed out half there were hundreds of ducks. That's where my PoD came from. The one above. It's a Tufted Duck. We sometimes get them in St Mo's, but I've not seen any this year. I always think they look like Daffy Duck. I also saw duck footprints, or maybe they were Coot footprints impressed into the ice and that's what the other shot is It was a toss up to decide what pic would be PoD, but Tufty won.
That was about it for the day. I did a bit of retail therapy at Currys in Bishopbriggs, looking for a microwave to replace our un-switchoffable present one. I also sneaked a look at 7″ tablets to replace my ageing Nexus 7 which was dragging its heels a bit. However, when I got home I researched the problem and decided that a factory reset might solve the problem. It looks as if it has. My fingers are still crossed, but it looks as if it has regained its previous speed. Now I just have to find out how to do a factory reset on a Panasonic microwave. That might be a bit more difficult.
Well, the snow is gradually disappearing and the rain that's fallen today has helped with that. However, there's more work to be done. Tomorrow, we have no plans.  It depends, as usual, on the weather.