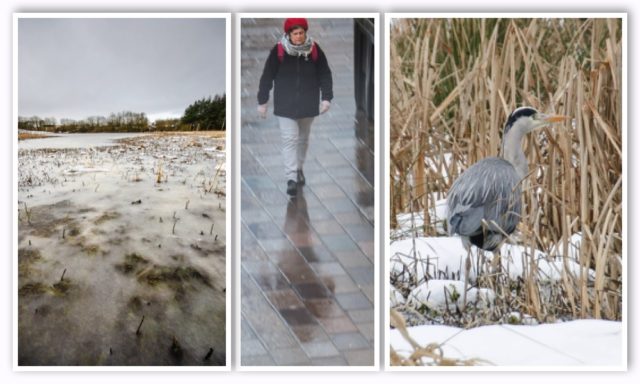 When we woke this morning it had been snowing during the night, but the strangest news that NLC had decided that all schools in the region would close at midday. Unheard of for eight years. Is this the end of Global Warming? Does this mean that Donald Trump is right?
It's winter. In winter it snows. If it's a bad winter, it snows a lot. That does not mean the end of the world, or even the beginning of the end. It just means that it's winter. Live with it. It doesn't mean that Global Warming is not happening, it just means that the seven year cycle thing has a bit of truth in it. This is the cold winter that happens about every seven years of so.
Today we drove in to Glasgow to buy a new microwave. The stop button on our old one had, indeed, stopped working. I could say that we were looking for a more efficient one to help reduce the effects of GW, but that would be cynical and I'm not a cynic! ;-D)))))
We went to JL, because they were the cheapest for the model we were looking for and they give an extra year's guarantee. While we were browsing the incredible selection of microwave models we discovered that yet another Scottish celeb was following us. Sanjeev Kohli AKA Navid from Still Game, AKA AJ Jandhu from River City was pretending to be considering the purchase of a fridge freezer, while constantly trying to see what we were buying. Last month it was Nicola Sturgeon AKA Nick the Chick who was stalking us through the mens wear department. In November it was Leah MacRae who plays Ellie McLean in River City who was trying to hear what we were saying in a beachside bar in Tenerife. Before that it was Wee Boab from the same soap who followed us to Costa in Robroyston. Don't these people have their own lives to lead? Why must they live their lives vicariously through ours? I'd offer them an autograph, but that would only encourage them. Anyway, we eventually shook off Mr K and got the microwave we were looking for.
The weather did look as if it was closing in when we left Glasgow and I was glad to just drive home and get parked up before the predicted snow hit. When we got home, the sky was lightening again and I thought I'd risk an hour or so in St Mo's to augment the few shots I'd got in Glasgow. I had just arrived back home when the snow stared. It was on and off all night after that. Tonight's dinner was chicken cooked in the gas oven and baked potatoes cooked in the fancy new microwave. I was impressed with both.
PoD today was Mr Grey who looked imperious, stalking through the reeds on St Mo's pond, and NO, the middle pic is not mum.
We may stay at home tomorrow if the snow is still falling. That will also put off the autograph hunters.