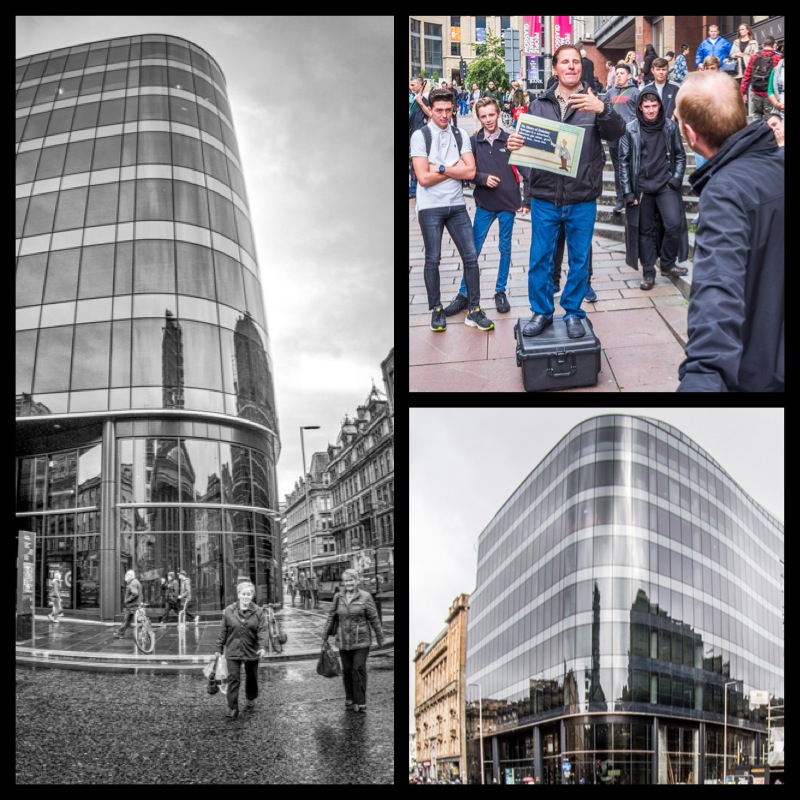 As with most Saturday mornings, this one started gently with a long lie in. This was partly because I'd been to a retiral dinner on Friday when much drink was taken.
The weather this morning was, as predicted, wet. I think it was partly Scamp's fault and partly mine. She because she had watered the garden on Friday and Thursday because it was so dry. Me, because I had washed my bike on Friday. Both these acts were completed using the hose. That self same hose that we bought in April and hadn't used since then, because it had rained almost every day. We had broken the dry spell by using the hose! Broken the 'spell' that is!
We had sort of planned to go to Perth today, but that was back in the middle of the week when the weather was much better. Today, we decided, we'd just go to Glasgow on the train for lunch. Seemed like the best way to deal with such a dull day.
Went to Zizzi's in Exchange Square for lunch. Scamp found out just how hot red chillies can be and my pulled pork pizza was more like a teased piglet pizza. Really, I should have taken a shot of it and sent it to the Zizzi management to see if they could identify the actual pork without the aid of a microscope or DNA analysis. I think this may be the last time for a while we will be gracing their premises. I realise that times are tough in the restaurant sector, but if you advertise the pizza as pulled pork, then that meat should be its prime topping. That said, the Italian sausage was tasty, but, I've just checked the menu on Zizzi website and there is mention of crispy prosciutto and that wasn't in evidence either. Maybe the pig ate it then ran away. I've written a complaint to Zizzi head office.
Bumped into Ruth from Salsa – she was going to a refugee rally in George Square.  Hardly recognised her.  She's a shadow of her former self, but in a good way.  She seemed a bit put out that we were walking away from the rally.  It's our choice, our life, our day.
On the train back, we were sitting beside two loud americans ex-teenagers. They drawled on and on in loud voices discussing the education system in Scotland and its failing. Why are american teenagers and ex-teenagers so annoying. Empty head and empty talk full of jargon and little else. I was tempted to put on the Ned voice and drawl back at them: "Hey mate. Ur youse americans? So ur ye jist here tae git a bit o' ejicayshin? Cause you're baith talking' pure crap man. See me, ah've dun the ejicayshin thing an ah can tell when sumdi's talking' shite, an youse ur." Scamp would not have been pleased and would have maintained a stony silence for the rest of the evening.
Top left picture is of my favourite building of the moment taken with the 9mm lens.  Processed in Tonality Pro.  The processing suited it in my opinion.  Top right is a religious zealot who regularly preaches in Buchanan Street.  I think he got more than he bargained for today when he took on the man on the right.  Bottom right is the same building as the first one, but with a bit cleaner processing and a different viewpoint.
It was a no' bad day in the Toon.