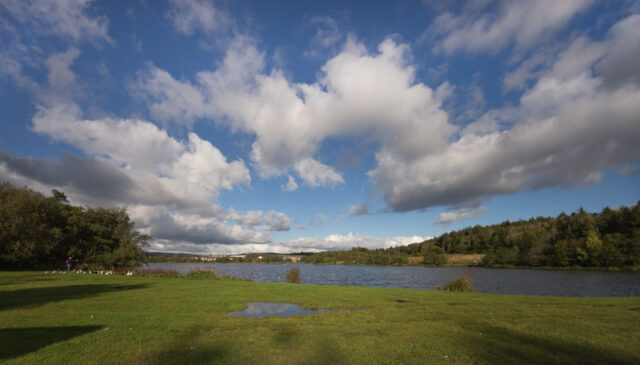 It started off dull, but then the sun found a way through.
Spent most of the morning struggling with the Sony menu system and after reading many pages on the net, began to see how to control this full frame beast. Managed to get two Nikon lenses working with it, but the third, the long zoom was uncontrollable and I gave up in frustration and had lunch.
Scamp suggested a walk to calm my nerves, I think and I agreed. We walked a circuit of Broadwood Loch, stopping a couple of times to get some shots. The best one I got IMO was what you see here as PoD. It's a view of the loch from the car park using the old Nikon 10 – 20mm lens on the Sony A7.
<Technospeak>
The problems are:
The 'Type G' lens has no aperture ring, so aperture has to be controlled with a ring on the adaptor. Therefore you, the photog, have no idea what aperture is set and are shooting by eye.
The lens is an APS-C which means the coverage of the lens is meant to be for a smaller sensor than the full frame sensor, so what you get is a sharp image enclosed in a circular frame with a dark surround.
In other words, it's a bit hit and miss, mostly miss up until now. With that said, once the image has been cropped and exposure adjusted, it looks fairly reasonable, if a bit distorted. Later in the afternoon I discovered that Sony had thought about point 2 above and included a switch, buried deep in the labyrinth of the menu system, to adjust exposure for APS-C lenses. Too late for the afternoon's photo session.
</Technospeak >
OK JIC, you can come back into the fold again
It was a very pleasant walk for all the photo babble. Sun was shining, birds were singing. A beautiful October day.
However, I'm afraid the lovely A7 has to go back to JL this week. I don't know who owned it before me, but they didn't know or care how to keep it clean. Today's sunshine revealed hundreds of dust bunnies all over the sensor. You don't notice them on dull days, but on bright days they come out to play. If I was conscientious I'd get out my cleaning swabs and give it a good scrub, but not after I'd paid good money for it. It was cheap, but not that cheap. Lovely though the gradation of tones is, it has to go back and well within the 30 days too. However, before it does go, I'm going to have a good look at that APS-C setting (the one JIC doesn't know about, because he skipped that part of the blog.)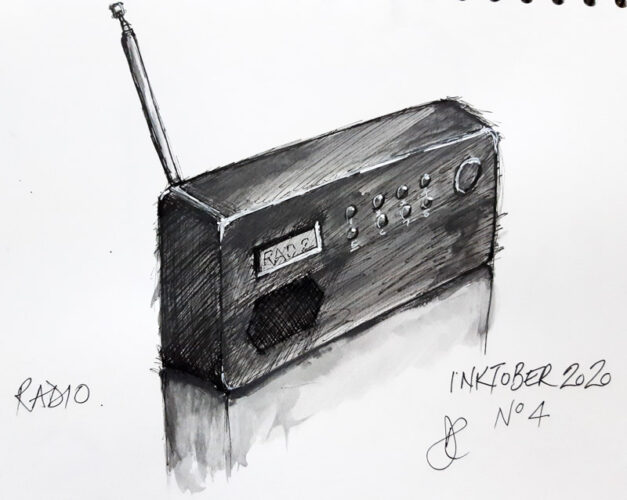 Dinner tonight was Scamp's Just Soup followed by Mushroom Risotto. Soup was up to Scamp's usual high standard, risotto could have been better, a bit stodgy.
Spoke to JIC and got the lowdown on interview technique and things going on down south. Scamp booked a house we're hoping to have for a week at Easter 2021 all being well.
Today's Inktober sketch was a Radio. I chose Scamp's DAB radio. The drawing is a bit rough, but it's good enough.
Tomorrow it's going to be dull and wet. I may go to the butchers in Muirhead and get some carnivore food. It will stop me mourning the loss of a dream camera.