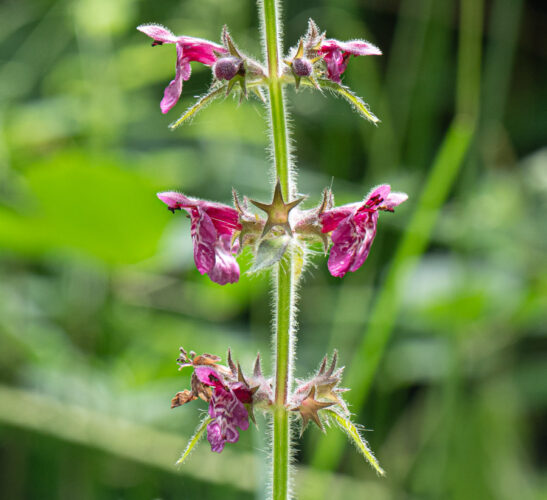 This morning, Scamp suggested a walk along the Forth & Clyde Canal. I agreed.
We drove to Auchinstarry and got what was probably the last space in the car park. I'd decided to bring two cameras with me, one with a macro lens and one with a medium long zoom, to reduce the need to change lenses out in the wild. That meant I needed the new rucksack. Actually, it worked out quite well, because although there were patches of blue sky, there were also a lot of heavy looking rain clouds. Having the rucksack meant I could carry my rain jacket but be free to walk with just a jersey and trousers. Boots, of course were mandatory for both of us and of course, Scamp chose to wear her rain jacket, just to make sure it wouldn't rain.
Lots of folk walking dogs or walking in family groups and loads of cyclists. I couldn't blame them, it was a lovely morning. I'd only seen a couple of hover flies in St Mo's during the last few weeks, but there were literally clouds of them along the canal. I think the reason for that is the cow parsley and hogweed flowers are out along the side of the towpath and those flowers are very attractive to hover flies. I'd put the 50mm macro lens on the A7, but it was having a hard time focusing on the insects because there was a stiff breeze which made the big flower head bob about a lot. I wished I'd packed the long, heavy 105mm macro instead. But I carried on regardless and did manage a couple of shots that were sharp enough to keep.
We walked as far as Twechar where we left the canal tow path and crossed the road on to the old railway line and walked it. There are some lovely landscape shots to be had there and I decided I'd remove the macro lens and stick on the kit lens instead. I was half way through the transfer when a cyclist appeared heading the way we'd come. He said he thought I'd an injured dog when he saw the brown and dull green rucksack. Scamp told him "No, it's just a man who always needs to change things!" He laughed and said that was perfectly all right! I apologised and we went our separate ways after I'd taken a few landscape photos.
For the last four or five years a great amount of work has been going on to improve the flow or the Garrel Burn. It's finally finished and although the path I used to walk has not seen a great improvement, it would appear that the burn now meanders rather than flows through the wetland. We walked part of it on our way back to the car. Maybe next time we'll take the Wibbly Wobbly Way and see what improvements there are.
We went home via Lidl to get a chicken for dinner and came home with about £50 worth of chicken, bread, cherries, kitchen scales and a bottle of gin. How I wish we had a Lidl rather than a manky Aldi in Cumbersheugh.
We watched an action packed British F1 GP with dangerous looking crashes and the lead changing hands with every second that passed. Glad to see that Max isn't having things all his own way.
Spoke to Jamie and heard how the roof problem is still on hold until the bats survey is complete. Glad we don't have bats in our belfry. Also got advice on completing the mandatory LF test for boarding the ship. Thanks for that Jamie.
PoD was a picture of an, as yet unknown bright pink plant growing by the side of the railway path. If anyone recognises it, an ID would be appreciated.
Tomorrow we have no plans.