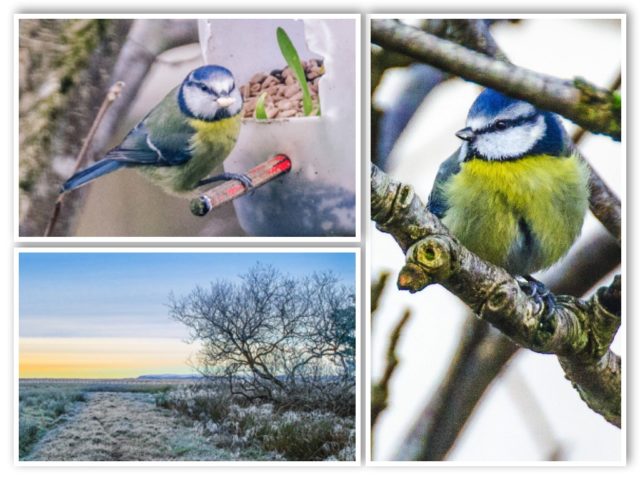 Yes, in the morning it was cold and frosty and it stayed that way for most of the day too.  Poor wee violas in the hanging basket at the back door.  They rarely see the sun in these winter days and today they looked wilted.  When they finally thawed out about 4pm, the sprung back to life as if it had never happened.
Today being Scamp's 'Gems' group's singing practise, I packed my bags and headed for the leisure centre where I intended to have a swim and a nice 30 mins or so in the sauna and the steam room.  That's 30 minutes total, not 30 in each!  However, it was their turn for 'essential maintenance'.  So far we've had the air-con in the changing room refurbished and the gym equipment replaced.  Last week it was the jacuzzi that was essentially being maintained and today it was the hot rooms time for an overhaul.  Next week the pool?  Who knows.  It always worries me when an establishment like this gets a complete facelift.  Usually it presages a change of ownership.  I hope I'm wrong, but I just have that feeling …
After the curtailed swim, I left and headed for Fannyside Moor, just on the outskirts of Cumbersheugh to get a PoD.  Actually I had one in the bag from earlier in the day when the bluetits found the bird feeder had been refilled, but another one or two wouldn't go amiss.  I was armed with the old Sony F707 and the Furry Monkey.  Hoping his magic paws would do the needful with the IR filter again.  Well, he worked his magic, but there just wasn't enough direct sunlight to give the necessary IR, so I resorted to a couple of landscapes taken with normal light instead, the best of which is above.
Salsa tonight was the usual mayhem with Jamie Gal forgetting his moves which "… worked perfectly earlier in the day in my office!" Then trying to make up a name for them, before attempting to translate the name into Spanish.  Great fun!
Kizomba?   Hmm, not a lot of fun and I sense a rant starting.
This was the last lesson of the block and I would have thought that Kay, the teacher, would have been pushing hard to keep us interested.  Instead she just tread water for almost all the class time.  Because her teaching assistant was absent, she had one of the class members run the guys through a 'warm-up' reprise of the last seven weeks' moves while she did the same with the girls.  The 'warm-up' lasted for twenty minutes.  Twenty minutes of an hour long class.  Then she introduced a new 'helper' who either didn't speak English or didn't want to be there, because he hardly uttered a word all night.  You could tell the class weren't too happy when she applauded us all after our first dance and nobody in the class responded.  I nearly left there and then when she attempted to introduce 'Musicology' as a topic.  I wasted two hours of my life with the dreadful Samira attempting to make this into a science instead of something that everyone can do naturally.  If you can't understand the beat of the music, this time wasting exercise wasn't going to help you IMO.
Scamp wants to go back for a second block of Kizomba, but I'm not so sure.  This is the second week we've been without a teacher for the guys.  I like the dance, but if there is no teacher for us, then I'm not getting value for my money and that's not a good thing.  I'm suggesting we pay the class on a week by week basis to see what transpires and if it doesn't improve, I'm not going to continue with it.
Temperature is rising and even as I write this at 11pm it's warmer than it's been all day.
Dentist tomorrow 🙁