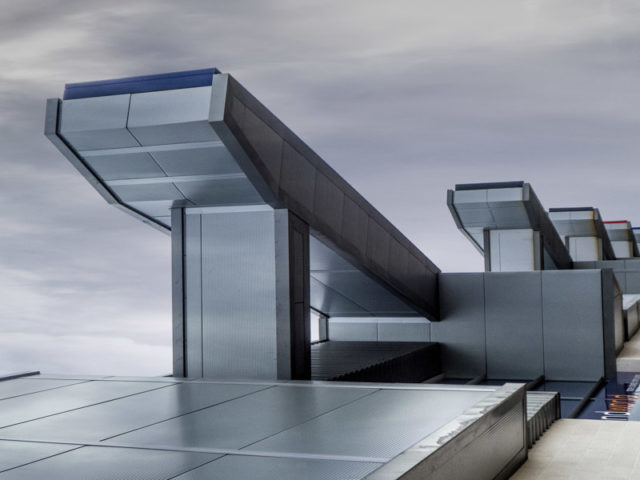 It was one of those mornings when you just can't be bothered to get up. I lay for an extra half an hour, not sleeping, not even snoozing, just lying there with my eyes closed. Delightful. Then the day began.
It was sunny and warm (15º) when we woke. Not at all what we'd expected from the weather fairies. It'll never last, we said. It did. Eventually at about midday we ventured on Scamp's suggestion that we go for lunch at a nice wee curry restaurant in Kirkintilloch. We'd passed it during the week and I'd mentioned that we hadn't been there for ages. I'd forgotten all about that, but Scamp hadn't. So that was it. Got there and the place was empty! Open, but empty! Oh dear, maybe the good people of Kirky have weighed it and found it wanting. Pakora starters were hot, but a little bit dry for my liking. Then the mains came and the nan bread looked like nan should. Big, well fired and slathered in ghee. As well as the mains, the customers came too. Then we twigged. Buffet started at 1pm and that was what folk were waiting for. I wish I'd had a look at the buffet offering when I left, because there looked to be a good selection. Scamp doesn't like buffets and I know I tend to just gorge on them, so perhaps they are best avoided. The mains were spicy hot and physically hot too. They tasted freshly cooked, but maybe lacked a little bit in taste. Foodies! What can you do to impress them?
Scamp wanted to do some shopping in Kirky. Not 'Messages', but 'Shopping'. There is a difference. I wandered round Kirky counting the number of charity shops and 'pound shops' and deciding it was on a downward slope.
After leaving Kirky, we drove to Robroyston for a coffee and some messages. Then it was home before the rain came. Today's PoD actually came from Robroyston originally, before it was dunked in a bucket of Photoshop. I think it improved it.  If you want to see the original, it's here.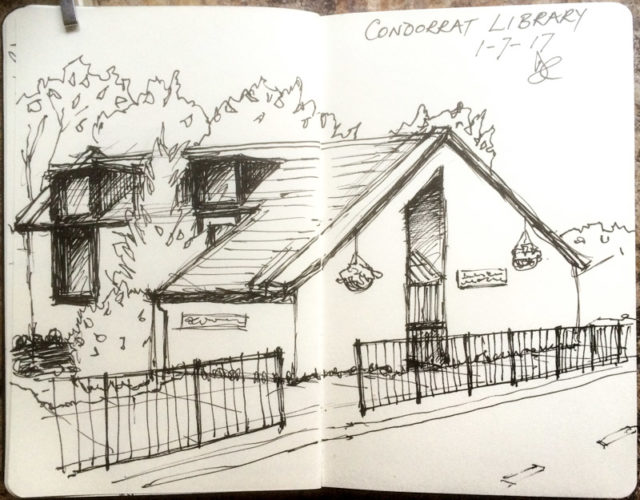 Got fed up and wanted to get some more photos, so I took a bag of stale bread and went to feed the ducks in St Mo's. Got some photos of the pond and faked them to look as if the sun was shining using Lightroom. Went to Condorrat on the way home to get some sweeties and found my sketch subject for the day, Condorrat Library. Lovely wee building that always made me think of Fort Apace The Bronx with its high windows and narrow door opening. The iron grating just enhances that feeling. Still it has some trees round it and even a couple of hanging baskets.
That was it for today. As I was heading home the first drops of rain were falling. The weather fairies are rarely wrong!