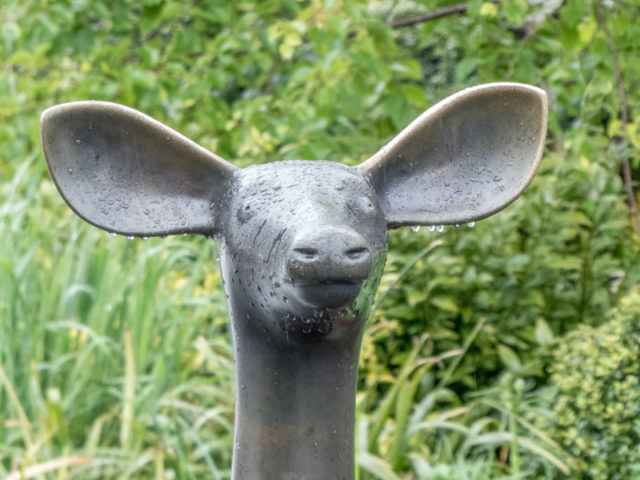 Well, it should have been Scamp we were driving, but Driving Miss Scamp didn't have the same ring. Then to be perjink about it, we'd have to say Driving Mrs Scamp and by that time the title doesn't scan and we lose the whole joy of it. Soooo, Driving Miss Daisy it is. By the way, isn't perjink a lovely word? It means neat or fastidious.
We drove to Stirling today to get a new jacket for Scamp. She had a 20% discount voucher burning a hole in her pocket, or her purse to be more perjink. Enough? Yes, enough.
We were driving just ahead of the bad weather, you could see it in the rear view mirror. As we walked in to Stirling town centre, the rain came on, but we managed to shelter in M&S. Unfortunately, they didn't have Scamp's jacket in the right size. I suggested we should go to Glasgow because there are two big M&S shops there.
As we were driving down the M80 the rain got heavier and heavier and then CITRAC lit up with a warning of congestion just a mile or so before the M8/M80 junction and from experience, this means that the motorway will choke up and driving in that is no fun at all. I'm guessing that those 22 men from Wednesday were having another kick about. Time for a change of plans. Glasgow Fort has a big M&S store and we had time to change lanes to get there and avoid the congestion on the M80. That is what we did and also as a bonus, we drove out of the torrential rain.
At the Fort, Scamp got her jacket in the colour and size she wanted. Sorted. Lunch was in Wagamama across the road. While we were there, the next rain shower descended on us and it was nice to be sitting looking out at folk getting wet. After lunch we went our separate ways for a while. Me to Waterstones and Scamp window shopping. We met up at Hobbycraft as we had planned. I've an idea to make a fold up stand for my Linx 10 tablet. It makes it so much easier to type into with the Bluetooth keyboard, so I got a piece of 3mm plywood to make it. Fairly strong and light, plywood should be ideal. Today's PoD came from The Fort and is one of a group of bronze deer statues around the site.
Back home, I managed to convince Adobe to allow me to download Lightroom 6 for half price because I had a serial number for my original LR 1. It's not an amazing upgrade from V5, but at least I can get the Teazer's RAW files processed more easily. Yes, the Teazer is a keeper. It produced today's PoD.
Tomorrow? Maybe going for plants for the raised bed to keep the peas company and also the beetroot which just appeared today. Maybe dancing too in Paisley. We'll see.