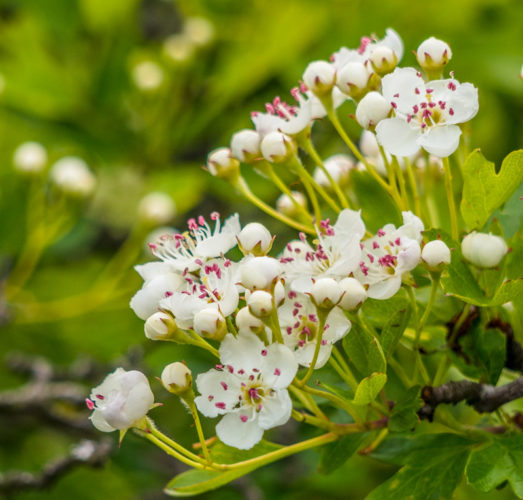 It's been a bit of a flower centred week.  Since Tuesday there seems to be nothing but flower pictures imprinted on the CCDs of my cameras.
Today we welcome summer to Scotland with the Old Scots saying "Ne'er cast a cloot until May is oot."  Which translates to english as "Don't discard your winter clothes until the may (hawthorn) is in bloom." Today's PoD was of a cluster of hawthorn blossom frothing from a bush.  I had actually gone to this spot on the Antonine Way to try out the Teazer's ability to produce a panorama in-camera which it did and also to check its in camera time-lapse ability which I failed to achieve.  Maybe I need to read the instruction book.  READ THE INSTRUCTIONS for what is basically a little point 'n' shoot camera?  I think not!  Instruction books are for noobs.  Look, I paid good money for this camera and all its fancy modes, so it should deliver them without the need for an instruction book.  What is the camera world coming to?  It failed, in other words.  I didn't fail, it failed.  Fin.
Made the strangest bread this morning because Scamp's dad's cousin was coming for dinner and she is a coeliac.  I'd never made a gluten free loaf before and when the instruction started with "beat two egg whites with two teaspoons of sugar, one teaspoon of vinegar, one teaspoon of salt, two tablespoons of oil and 400ml of water"  I thought 'What is going on here?'.  However, I followed the instructions and the bread rose and was baked for the required 55min.  That's twice the time a 'normal' loaf takes.  Even stranger, it looked like a cake rather than a loaf when all was done, BUT it tasted like a loaf.  Like a pan loaf and it had risen perfectly.  No soggy bottom and Isobel who has is an expert on gluten free loaves gave it her seal of approval.  She got the remainder of the loaf away with her.  I may try it again, even with its strange very white flour (that isn't really flour) and beaten egg whites.
Scamp, June and Isobel were going to a concert in Glasgow afterwards and I was nominated driver.  When I came home I tried an install of Lightzone which is a very able Lightroom clone.  It's free as in legally free and is cross-platform which means it works on the Mac and also on the Win 10 tablet because it has 32bit architecture.  It's not as polished as Lightroom and doesn't do the cataloging that is at the heart of the Adobe prog, but it's a great piece of software.  Best of all, out of the box, it supports the Panasonic RAW files the Teazer produces.  Amazing what a little piece of free software can do.
Tomorrow?  More Teazer Testing, but I refuse to read the instructions.