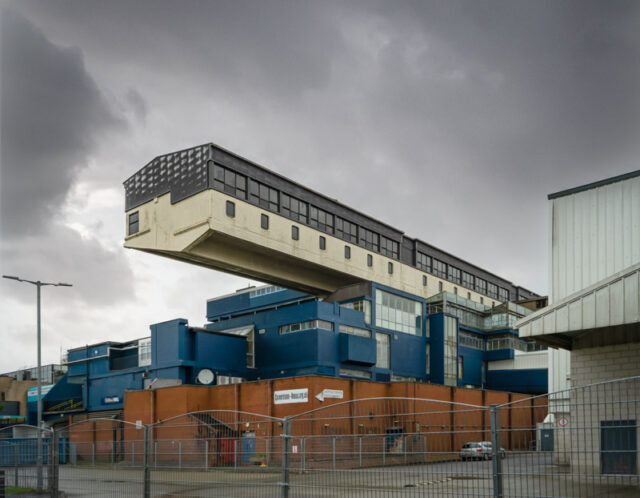 We were picking Isobel up and taking her for coffee today.
Always an entertainment, Isobel. She just speaks her mind and if you don't like it, then … tough. For some reason I actually enjoyed my coffee in Costa. Maybe it was the company or maybe it was the Bosh Chocolate Slice which I hadn't noticed was vegan, but you couldn't tell! It could also have been because I told the barista not to add any water to the already almost full cup. This may be the first and last time I say this, but the coffee tasted like … coffee! A first for Costa. After a couple of hours we were talked out, although I'm sure Isobel would have kept going for another hour at least. However we had to get home for 3pm. She was going to Tesco which is at the opposite end of the great cavern that is the Antonine Centre. We walked along with her and after she'd bought the plants she came for, I walked back to get the car and bring it round for Scamp and Isobel. On the way I took two photos of one of the architectural monsterpieces of Cumbersheugh. I had plans for it.
Drove round and picked up the two of them, drove to the Village and deposited Isobel at her house. Back home we had time for lunch before a man phoned and asked us a few personal questions before knocking on the door and giving both of us each a cotton bud to stick down our throat and up our nose. We gave it back to him and off he went. That was our Covid survey completed for June, even though it's still May. I'd say that we're getting used to it, but that would be a lie. It's still a really uncomfortable thing to do and we still have another six or so to look forward to. Oh what fun we have.
I forgot to mention that the rain started around 11.30am and it didn't stop until about 5pm. I know the plants need the rain, but the back garden is going to feel like a paddy field if this goes on much longer. With that in mind, I decided that the two photos I took in the afternoon would make PoD with a little bit of Photoshop magic. The new 'shop is a far more complex, yet at the same time simpler app than the old version CS3 that I've been using for the last 10 or so years. What you see here took an hour or so to do. The last time I tried it, it took four or five hours and it was nowhere near as convincing a result as today's. I approve of it, even if most of the heavy work is done for you. It's the result that counts.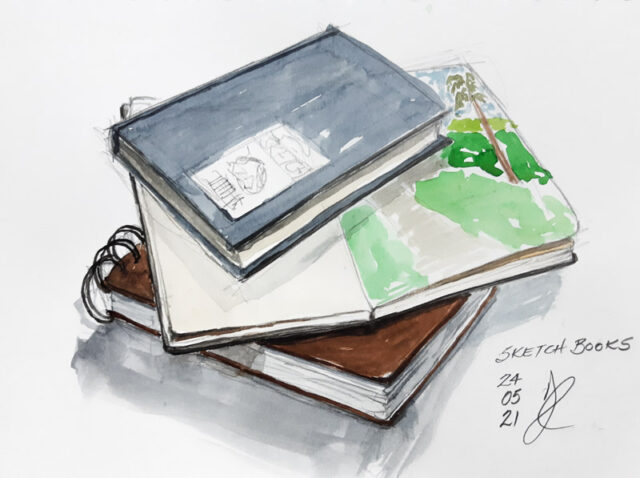 Sketch tonight was Your Sketchbooks. There's no way I was going to draw all my sketchbooks. If I had attempted it I'd probably finish around 4am. A fair selection was all I did. You will note, I'm sure that there are three items in the sketch. An odd number yet again. Makes for a more dynamic composition I'm told.
Don't know what we're doing tomorrow. It looks wet, but hopefully not as wet as today.