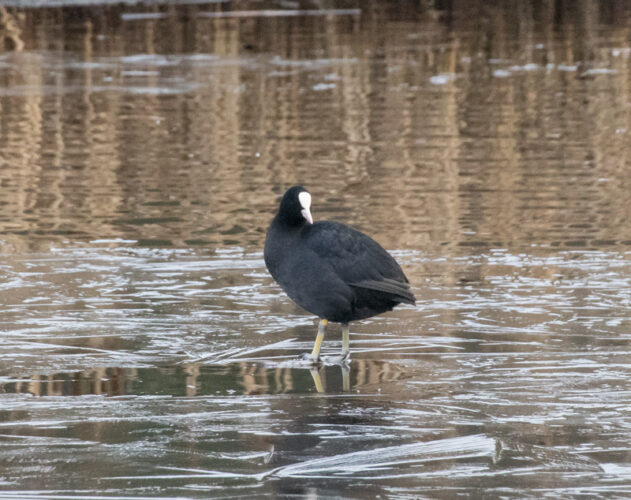 It gets harder to work out what day it is just now.
It was dry this morning, but it was also cold. Because of that we didn't move much until after lunchtime and judging by the line of frosted cars, most folk were thinking along those lines too. The temperature wasn't rising very much to encourage anyone to go out, but we eventually decided we'd go out for a walk.
Since we didn't know what the paths would be like, we limited ourselves to a walk round St Mo's pond. Even then we had to be careful and constantly watch to see where was ice and where was asphalt. The rough paths under the trees were fine, but the lower lying paths were so treacherous we chose to walk on the grass rather than the asphalt. I'd taken the Tamron long lens with me on the adapter and it worked as well as it could in the low light that marks December. PoD turned out to be a coot picking its way carefully across the ice on the pond. So it's not just us who are minding our feet! The boardwalk was icy, but walkable with care. The grit that's bonded to the wooden boards seems to provide a decent grip as long as you've got boots on.
Back home I processed today's pictures and posted them while Scamp read. Dinner was spaghetti, red spaghetti as it's known in the house. A tomato base with something from the veg selection in the fridge flung in. Today it was a bit of fennel, a couple of shallots, a handful of cherry tomatoes and the same of mushrooms. Apart from the tomatoes which went in whole, everything chopped up fine and sweated down before adding half a tin of tomatoes. It's a hit or a miss each week whether it's "great", "reasonable" or "in the bin and we'll have a pizza." Today was "reasonable".  Scamp's leftover trifle needed no such evaluation, it won the "Great!" complete with exclamation mark.
Watched Singing in the Rain which we'd recorded yesterday. Absolutely brilliant film with amazing dance routines. Scamp's just finished watching Strictly's Top 25 which was a pale version of 'Singing'!
Looks like more sub-zero temperatures tonight and most of tomorrow. Scamp's got a slot booked for M&S tomorrow afternoon. If the paths are bad we may drive down. If not, that will be our walk for the day.