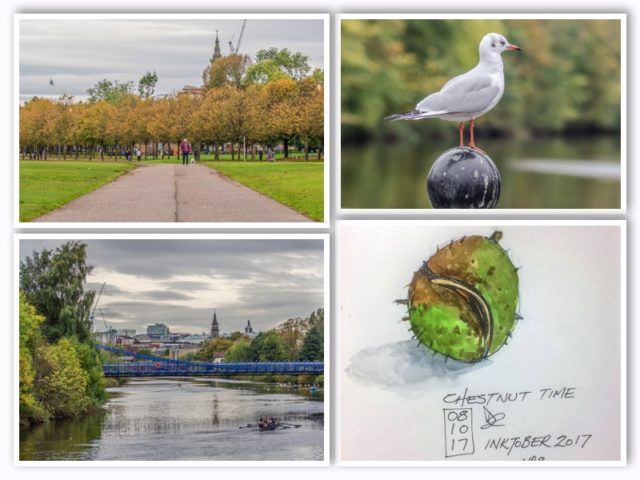 Yes, Santa hadn't taken it back during the night and I hadn't dreamed it either. There is was sitting on the table where I'd left it.
It was another day of backbreaking work adjusting, cajoling and a fair amount of swearing as anyone who knows me will testify to. Strangely, also a lot of talking to myself. Maybe that's because I'm the only one who has the slightest clue what I'm doing. Most things are working now and the backbreaking, which was due to me stretching across the laptop in front of me to see what the iMac was telling me, has subsided a bit now that I've repositioned the monitor at a decent distance and angle.
Scamp is keeping an eye on me as is the wee man in the Fitbit on my wrist, getting me to take their advice and walk around a bit every hour. It's difficult though, with this marvellous piece of equipment just sitting there in front of me. To that end, we drove down The Green this morning and went for an autumn walk. There's a big chestnut tree near where we park and I was lucky enough to find a chessy as we used to call them when I was wee. This one was just breaking out of its shell. I stuck it in my pocket with the idea that if nothing else, it would make a PoD. As it happened, it was a view down the Clyde from behind the Glasgow Uni boathouse that got PoD. I liked the leading lines in the pic of the wee man and seagulls or to give them their Dundee name, shitehawks are always a good subject. The chessy as you will have noted became Inktober sketch number 8.
I worked for another hour or so after we came back, installing more stuff and swearing even more. For a break I went for a walk around St Mo's before dinner, but the light was poor by that time and I didn't get much.
That was about it. Sat for an hour or more afterwards working through the photos and being even more amazed at the quality of that screen.
Tomorrow I think I'll go to the gym for a gentle workout and then sit in the steam room for half an hour. If I can drag myself away from the iMac.