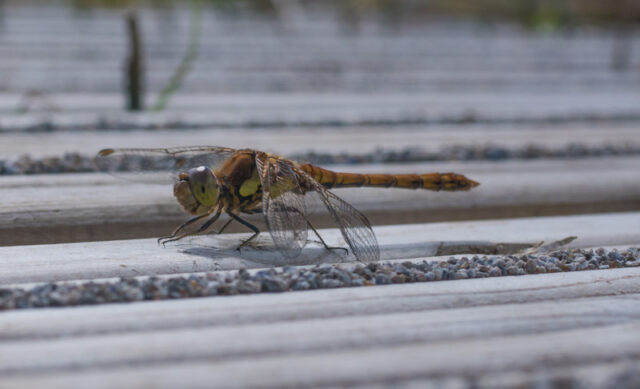 Rain and grey skies to begin the day. Brighter with blue skies to end it.
It's Scotland, what do you expect. We sat watching the rain for most of the morning, then after lunch things started to improve and we guessed we could risk a short walk.
Before that, there were chilli plants to bring out into the sun and sweet peas to cut before they became too leggy. Also there was a fair wind blowing at times and Scamp was worried that the topmost growth would be broken, so better to cut it back a bit, rather than risk damage.
Since the sun was still shining, we walked over to St Mo's and then went twice round the pond, because the breeze wasn't too cool and the sun on our faces felt good, well, it did feel good to me, anyway. We even saw a dragonfly, the first for ages, weeks even. At first it was a bit skittish but then I think it realised we weren't a danger to it and it settled on the boardwalk to allow me to photograph it. I'd only brought the 30mm macro lens which requires you to be fairly close to the subject to get a decent photo, but this little insect wasn't bothered in the slightest, just as long as I didn't make any quick movements, which I didn't. Today's PoD is testament to my patience and it's relaxed approach to humans.
Back home it was almost dinner time and I'd a steak to cook. Scamp was having salmon as usual. The steak was just ok. It was a bit thinner than I'd expected and I think I over cooked it a bit. It was half price though, so I shouldn't complain.
Painted Hazy's little Joan of Art paint tin as a watercolour sketch. I painted it on a wee pad of watercolour paper I found. So much nicer to paint on than the sketch book which is better for drawing on.
The news today is that people returning from all of mainland Spain and its islands must self-isolate for 14days on return.  It looks like it's not all over yet.  Personally I blame Bumbling Boris for bragging that it will all be over before Christmas.  I seem to remember that phrase from somewhere.  It was wrong then too.
It looks like the weather tomorrow will be wet, very wet at times. June may be visiting us. Let's hope it's not wet all day. I want some more dragonfly pictures.