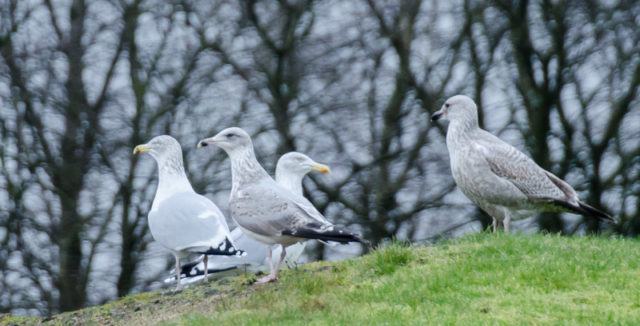 The essentials in question were milk, churros, strawberries and chocolate raisins
Felt a lot better when I woke today, and even better still after a shower. It felt like my head was my own again. It didn't help with today's Sudoku puzzle. You'd think that they'd make it a bit easier at Christmas, wouldn't you? But no. Today's was a real stinker. When I eventually solved it I had a cup of Christmas Blend coffee and then went out for a walk, I was feeling that good.
I walked over to St Mo's, saw the group of seagulls standing on a wee hillock and took the shot. Then I went round the pond and was heading towards the Marks & Spencer food place at Broadwood roundabout, but had to stop and catch my breath because I was knackered. It's amazing how a simple thing like a cold can sap your energy. However, I was on a mission. I was hunter-gatherer and I was out to get milk. Also the weather was more much more conducive to being out than it had been for the last few days.  No blue sky, but the clouds were quite high and it wasn't raining.
Got to the shop and grabbed the Milk. That was when I saw the Churros and decided they'd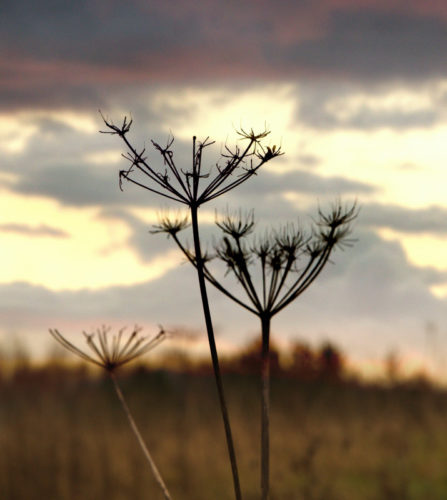 be good for later. Next I chanced upon some Strawberries, Egyptian strawberries, but I wasn't going to hold that against them, especially as they were reduced, being near their sell by date. Finally I grabbed a packet of Chocolate Raisins, which Scamp loves, as a thank-you for putting up with me yesterday. Got to the counter and the woman asked me "Any fuel?" I said "No, just the essentials. milk, churros, strawberries and chocolate raisins." That made her smile, and me too when she replied "That will be £9.18 for your essentials then!" The walk back was a bit slower than the walk there and I managed to get the basis of this shot. It is a fake of course. The sky came from a library shot, but the Cow Parsley was real today. Blended seamlessly in ON1 2019.
After that we set to and cleared out the bottom level of the cupboard next to the bathroom as Angela next door said that the rodents in her house had chewed their way in there and started sniffing around some Christmas prezzies she had stored in there. We didn't find any evidence of rodents in ours, but oh boy there was a whole load of junk, most of which has now been bagged ready to go to the dump on the next available day.
Today's dinner was a much simpler and less extravagant affair than yesterday's. Starter was Scamp's "Just Lentil Soup". Main was veg pakora I got at the butchers the other day and it was plenty hot and spicy. Pudding was a Fruited Caramel Brandy Pudding with a Brandy Caramel Sauce Centre. Quite a mouthful, as was the pudding. Oh yes, and I baked a loaf that we haven't cut open yet, but looks good
Tomorrow we may take some plastic bags of rubbish to the tip. Maybe a walk and a light lunch somewhere too.