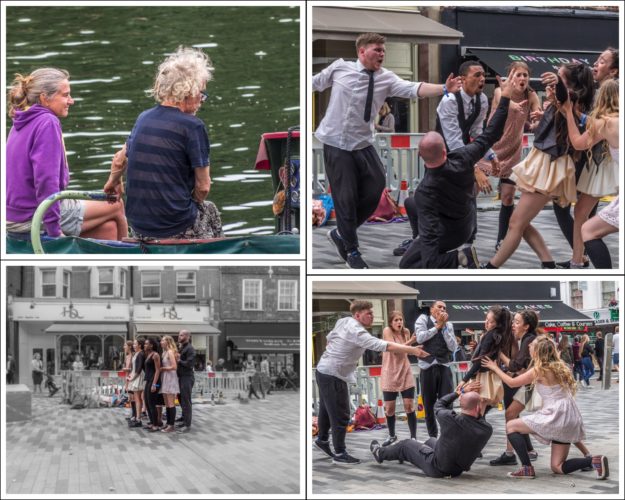 Today, after a late start, we walked along Chessington Road to the bus stop and got the 71 to Kingston.  It was a bit of a dull day, but warm.
Wandered around Kingston looking for the market.  I was beginning to think they'd moved it just to annoy me when we heard a commotion in the street.  It turned out to be an amateur dramatics group acting out, er, something.  A something without real words.  Bits and pieces of singing and screaming, but no real dialogue.  What it did have was some superb acting and mime, plus loads of humour and a bit of pathos.  Really entertaining, live and free.  Worth putting a couple of quid in their bucket.  After that, we found the market with a little help from Mr Google.  We are so spoilt in Glasgow with streets in a grid pattern, making it almost impossible to get lost.  Kingston is one of those old fashioned places where they built the houses, churches and schools, then made the roads round them.  With the market found, lunch was now possible and it turned out to be Japanese and from one of the kiosks in the market of course.  I had Chicken Yaki Soba and Scamp had Chicken Curry.  Enormous portions, far too big really, but very tasty, so we ate the lot.
After lunch we had a walk along the river admiring the variety of boats and spotting a cygnet with the swans on the stream that runs into the Thames.  Mrs Swan was sitting on the eggs the last time we were there in May.  It looks like only one egg hatched.  Such a pity.  After that, we got the bus back to Chessington.  There's a bus every 10 mins on average.  What a difference from one every half hour from Glasgow to Cumbersheugh.  People will only use public transport if the public transport actually exists and is economical to use.  That's a lesson Scotland could learn from London.
Frying pan pizza for dinner and it tasted ok, given that I was using a new to me oven.  Just remembered that I forgot to make the bread from the remainder of the dough.  Must do it in the morning.
Tomorrow is a mystery.  Not a clue what we are doing.  Let's go with Scamp's usual maxim.  It depends on the weather.