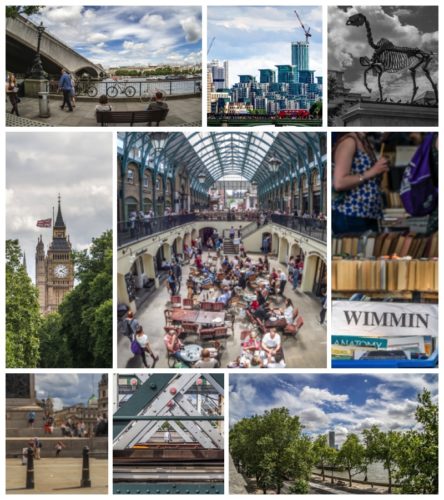 Took the train into Waterloo and found ourselves on the South Bank soon after that.  We walked along and crossed over Waterloo bridge then walked through Somerset House, but unfortunately the fountains were switched off to make way for an open air concert.  Bummer.  Scamp swithered whether our not to have a drink on the balcony of Somerset House, but finally decided that it was just a little too posh.  I have to agree with her, but it was getting very hot and I would have welcomed a drink, posh or not.  We walked along what turned out to be The Strand (Red on the Monopoly board) and finally settled on a little Italian restaurant with the strangest painted (?) leather seats.  Service was slow, but the food was really good.  It was very busy when we went in with lots of theatre-goers, but they soon vamoosed when it got near the time for the matinee.
When we left there, we walked through Covent Garden and the associated galleries selling all sorts of tat.  We tried to get a seat in a few pubs, but they were all full, so we went to a Cafe Nero instead.  We sat and watched blokes on scooters doing 'The Knowledge' with their maps and notepads clipped to their windshields.  Walked on down The Strand and eventually Scamp chose the Golden Jubilee bridge as our crossing point back to the South Bank and from there we walked back to Waterloo Station (also on the Monopoly board) and home.
Not the best London visit.  It feels like we need a target or a theme.  After The Strand and Waterloo Station, maybe we should aim to visit a colour set next time.  That might be a challenge.
Scamp made dinner tonight (stir fry) and we watched another excellent Hazy movie pick – The Martian.  Both Hazy and I had read the book and the movie stuck quite accurately to the book until nearly the end.  Impressed.  That's three good movie pics on three consecutive days.  That's good work.
Tomorrow?  Tomorrow is a new day and a new beginning.