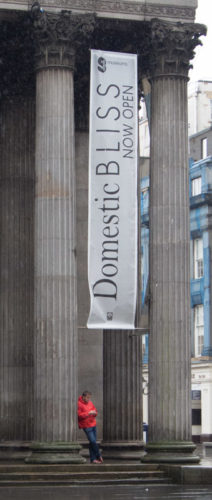 But not the end of the rain!
Today we had planned to go to the Sagra Italiana festival of Italian food in Glasgow. The camera wasn't being delivered until after 4pm, so that gave us most of the wet day to play with. The rain started seriously about 11am and from then on it was continuous. We reckoned the festival would be a wash out, but drove in to Glasgow anyway. We were right. There were about thirty people wandering around and at least half of them were family members of the girl group who were singing bravely on the stage. At least they were under cover. There's nothing so desperate as folk trying to look happy and cheerful when the rain is pelting down and all the planning has been for nothing. I think we both felt sorry for everyone concerned.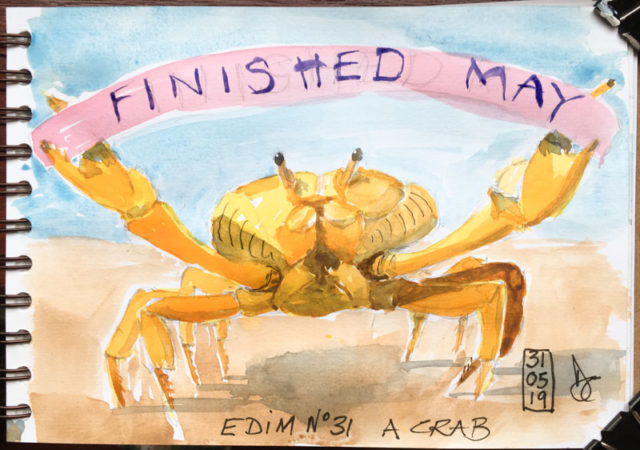 To cheer us up we went for a pizza in Paesano. It was mobbed, but then again, it wasn't raining in there. Everyone was warm and dry and being fed and watered. Went to CassArt and bought myself a little paintbox to celebrate the end of Every Day In May. I've had great fun doing the drawings and the paintings, but it's been tough some days to work out how to interpret some of the prompts. I'd do it again. Today's topic was A Crab. Try as I might, I couldn't think of anything to draw other than a crustacean. After all, living in the middle of Central Scotland, there aren't many crabs around here. So it was I wandered the arcades of the InterWeb looking for some decent photos. Eventually settling on an iStock image that was what I was looking for.
Today's PoD was seen from Ingram Street in Glasgow. The poor bloke sheltering in the portico of the GOMA didn't look as if he was the model of Domestic Bliss and I think that's what attracted me to take the shot.
Came home and took charge of the camera from the DPD man. It looked in very good nick and after giving the battery a quick squirt I checked it over a bit more and was very pleased with it. Let the battery charge a bit more and then the warning light started flashing on the charger which indicates a battery fault. I tried it in the camera and it worked for about fifteen minutes before it packed in. I've just charged it up again, fully this time, and it seems to be holding its charge this time. Will find out if it's really working in the morning.
The rain stopped for about ten minutes today, but it's raining again. Tomorrow is to be dry, but then the rain returns on Sunday. We should make the most of tomorrow, but we're not making any hard and fast plans yet.