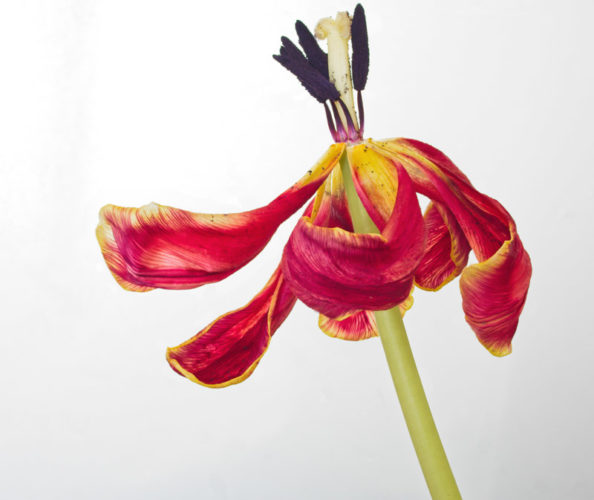 The weather fairies warned us that today would be cold with a wind from the Arctic bringing the possibility of sleet and snow. It did feel cold when we woke and despite the blue sky and sunny spells, the temperature didn't rise much. Since we had nowhere in particular to go, we just had a day at home. Sometimes it's better to stay home at weekends and do your travelling on weekdays when other folk are working.
Scamp was about to throw out some tulip flowers when I saw the beautiful texture and colour of their petals glowing in the sunshine. I set a camera on the table and taped a bit of tracing paper behind the flowers to allow light through, but soften the view of the living room. It took a few shots and a lot of changes to settings before I got the shot I wanted.
<Technospeak>
I finally decided that one shot wouldn't do the job. It needed too much depth of field and the only way I was going to get it was by taking at least five shots of the subject. One at the very front petal, one at the extreme back petal and at least three in between. Actually it took seven shots. The technique is called Focus Stacking and takes ages to post-process. The more shots you take, the more accurate your final shot will be, but the more time you'll be stuck in the computer deleting bits of the different layers. Luckily ON1 2019 has focus stacking built in and the hard work is done for you. Like all AI things, it does need some human intervention to get it exactly right. That's what I did … for about two hours, but I think the final image was worth the effort.
</Technospeak>
Scamp made her version of Minestrone soup for dinner and I made a lovely Tear 'n' Share bread to go with it. It was a bit like a focaccia but with tomatoes in it and less oil. It should have had mozzarella in it too, but we only had green and blue mozzarella with a Use By date of the middle of March, so we decided not to use it. The dough was really sloppy but the bread was lovely and so was the soup.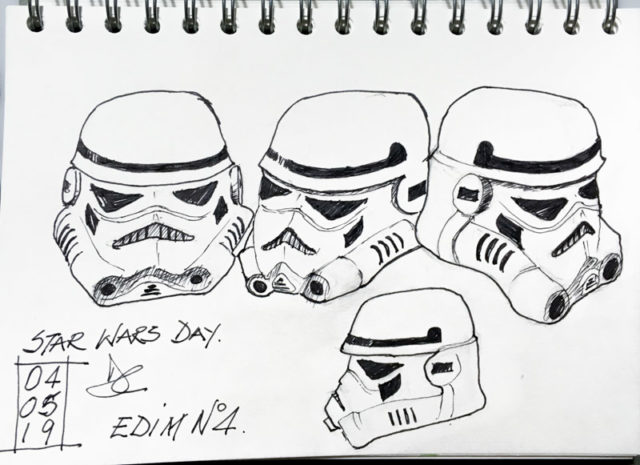 Today's challenge on EDiM was Star Wars Day. The closest I could get to it was the heads of four Lego Troopies. Just pen for a change and a challenge.
Tomorrow we may go dancing at the Record Factory.