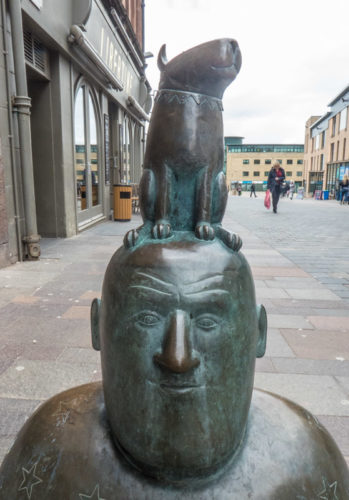 Today we drove in to Hamilton for that long awaited curry. It was worth the wait.
Took our time breaking surface in the morning. Well, you don't want to rush into things, so you? So after a coffee, and after Scamp had been for the 'messages', and after I'd started the pencil sketch for today's challenge in EDiM, we headed off to Hamilton for a wander round what shops are left, and a curry in the Bombay Cottage. We agreed that it must have been the 'hot chef' who was on duty today. Pakora was hot and so were both our curries. Enjoyed it though.
Went for a walk through the town which is looking more and more dilapidated every time we visit. Cumbersheugh is an eyesore too, but there isn't much worth saving here. There is in Hamilton and you get the feeling that nobody can be bothered. Newly renovated Town Hall, but not a lot more. I had a browse through the art shop (Ink Spot), but there wasn't much that interested me. I got fed up listening to an opinionated little 12/13year old spouting out in a lah-de-dah voice about Manga to anyone who would or wouldn't listen. She just reminded me of Moonunit Zappa's voice in Valley Girls "Barf me OUT". We left and I got a potential PoD. One of a selection of comical sculptures dotted around Hamilton. They're about the only things that would make me smile in this town.
We drove home and I put some ink on the pencil sketch, but it didn't look any better, so I went out to see if there were any photos wanting taken over in St Mo's, but there weren't. That didn't stop me taking some more, but none of them surpassed "The Man Wi' A Dug Oan His Heid", so it retained its PoD position.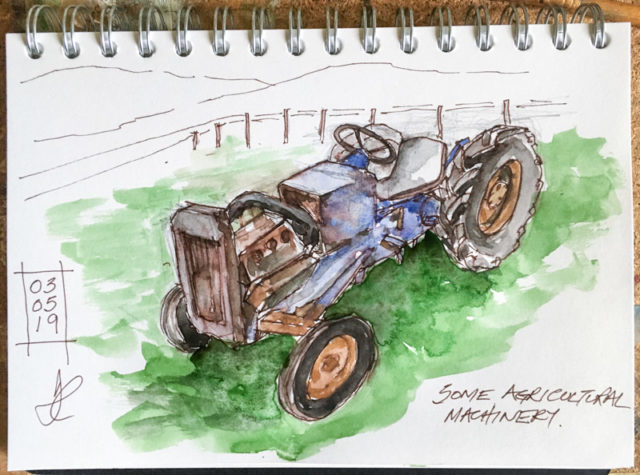 Finally put some watercolour on the sketch and discovered that the lovely sepia fineliner I'd been using wasn't water resistant when it bled into the washes. Never mind, there was meant to be a lot of rust splashes on the paintwork of the tractor and the sepia fitted right in.  Topic was 'Some Agricultural Machinery'.
That was about it for the day. Don't know what we're doing tomorrow or where we'll be doing it. It's forecast for cold winds from the Arctic and even sleet showers. We'll wait and see.