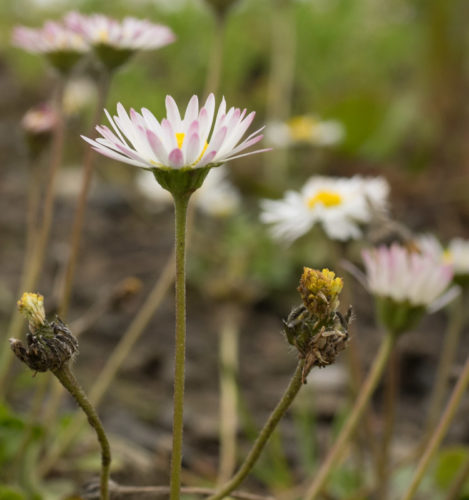 It was one of those days when I couldn't settle.  Eventually Scamp talked me down.
What I did do was to solve today's Fiendish level Sudoku with the new method which I got from YouTube of all places.1 I'm really impressed with this method.
With that out of the way we wandered in to Glasgow to look for a pair of boots for me. Ostensibly to replace both the leaking pairs I have. Probably I'll keep the Clarks pair which don't leak quite as badly and ditch the Lafuma ones. They look good, they just leak like a sieve now. Rather than throwing them out, I'll probably put them in the next Salvation Army bag that arrives. They may not be good for walking through puddles, but they will keep someone's feet warm in the winter. Tiso was the first, and only stop. I tried on a pair of boots that were the right size and lo and behold, not only were they a fit, they were also a comfortable fit. I've been wearing them all night just to make sure they are the ones for me and I'm comfortably sure they are.
Sat down for a while and painted A Stone.  Well, actually it's a dry stane dyke, but it does contain at least one stone.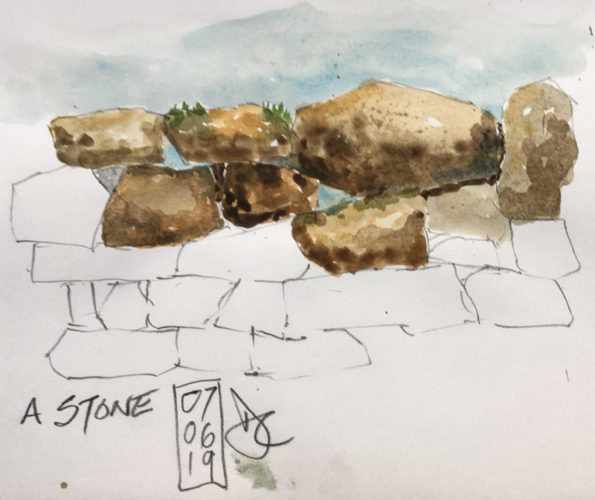 Back home via Robroyston for a coffee in Costa and a chance to stock up on messages at Asda. Next stop was Tesco for a bottle of rum – well, it is Friday. Then home, where I decided to wash the car and rinse it off with water from Bobby Flavell's outside tap. Such a great idea, having an outside tap. So much easier than carrying buckets of water and getting soaked trying to wash off the roof or the Juke. Also allowed me to hose out the depressions where the wipers sit. The hose makes short work of all the fermenting flower heads and general gunge from the trees overhead. Thank you Bobby.
With the car dripping, it was time to go for a walk in St Mo's to get some photos. Not a lot to see and the light was quite low. Managed a better view of the scary fly from yesterday. Maybe not that exact fly, but certainly one of that genus. Hopefully someone on Flickr will be able to ID it for me. PoD went to the close up shot of the daisies. Both Scamp and I agreed on that.
That was about it for the day. We shared a fish supper tonight and for the second time "Well, it is Friday." Suffering a bit for it now, but it was delicious at the time.
Tomorrow? I think it's going to be up fairly early and out.
---
This is really a marker for me so that some time hence I can remember where I found this time saving tip. ↩