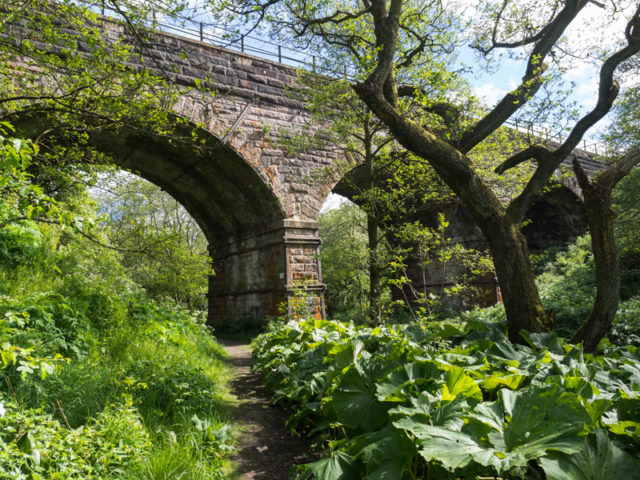 Today we were going out to Hebo House for lunch.
If you don't understand what Hebo House is, don't Google it. The original sign read THE BOAT HOUSE (all caps). After the original owners sold up, some of the sign's letters disappeared and it now reads HE BO HOUSE, hence Hebo House. Much better when it's not shouting at you too. It's been re-opened for some time now, but the present owner(s) can't be bothered to fix the sign. Maybe they too like the kudos of the Hebo House. The lunch was quite good, by the way. Mine was a burger and it worked for me. Scamp had a chicken burger that also looked good.
Now that we were fed and watered (soft drinks only) we went for a walk along the canal, mainly because my task for today was "A bridge over a river or canal". We walked under the bridge, and I took photos from both sides and neither looked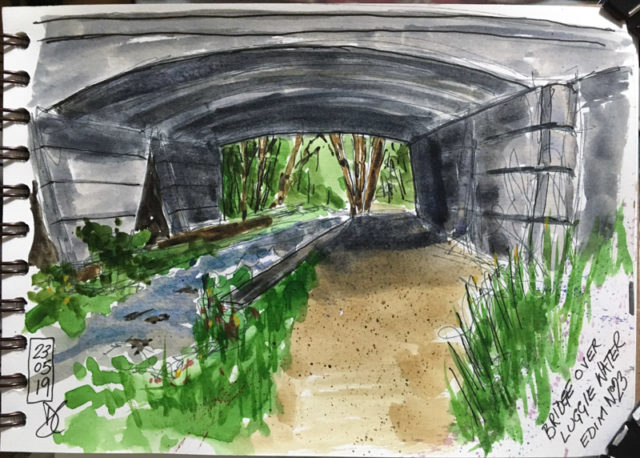 interesting enough to sketch. The other thing was the temperature. The car thermometer said 14ºc, but outside the wind sucked a lot of that heat away. We didn't walk far. We just headed for Lidl in Kilsyth for essentials (wine, beer and ice cream) and came home. I still hadn't a photo, so I drove down to the Luggie and went for a walk, because the sun had come out and it became pleasantly warm. Not only did I get my PoD shot of the railway arches, but I also got the ink sketch for today's EDiM topic: A bridge over a river or canal: Bridge over Luggie Water. This is a lovely place for a walk. Along beside the Luggie Water under this bridge and then under the arches of the railway bridge. A lovely place … in the daylight at least! Don't go after dark. Not without kevlar armour and a very big stick.
Used one of my sketches as today's drawing and slapped some paint on it tonight. I like it.  Like Scamp says, "You can walk into it".  Made a pizza tonight just for a wee snack since we hadn't had anything substantial since early afternoon and the pizza was slightly overdone, but very nice.
That was it for the day. Tomorrow I'm having coffee with Fred at lunchtime and maybe a pizza for lunch before that. I believe someone is going to have to make a focaccia at some time too.