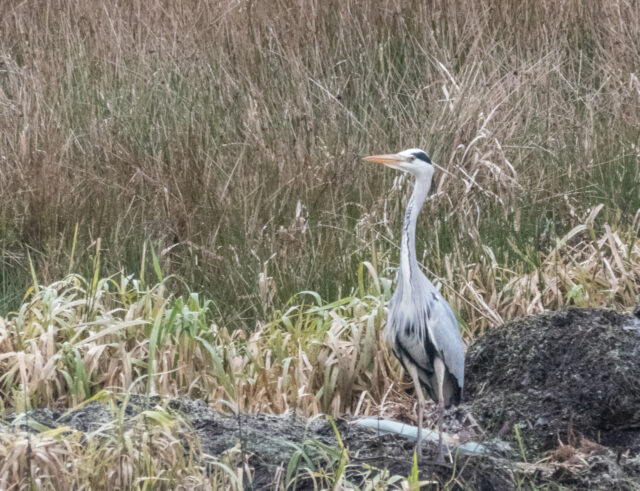 Scamp decided we should walk the canal this morning.
We drove to Auchinstarry hoping to walk along the railway path since it should nearly be finished by now, but when we got to the plantation path the men in the yellow suits were still wandering around behind the wire fences. I assume they are almost finished, but it's hard to tell. Anyway, we weren't getting to go that way today, that was for sure.
Instead, we crossed at the plantation and walked up onto the canal footpath at the other end. From there we walked on heading for Twechar. Found today's PoD on a dull day. It was a Grey Heron standing on the far side of the canal. Far too far away for the Sony to get a decent image, so it was down to the TZ90 to get the job done. At about the same point I got a dull landscape shot of the Campsie Fells, but once it had been processed in ON1 2020 and then Lightroom, it looked a lot better and it got second place. We stopped and turned not long after that because the canal runs straight and boring after that. The bends are the most interesting areas of this stretch.
We watched a Cormorant fishing as we walked on. We were both amazed at the length of time it managed to stay under water and how far it could swim in that time. It kept its distance from us and as soon as we got too close it would fly off. The rest of the walk was uneventful. After the walk we drove to Lidl for one or two things and came home with two bags full. Lots of meat, fish and chicken mainly. Now we need to find a home for it all in the freezer tomorrow.
Dinner was Chicken Stir Fry form Lidl with me cooking. It wasn't too bad. A bit spicy, but also tasty. Cooked it with noodles for a change from rice.
Watched the first episode of The Queen's Gambit. It was ok. I liked the chess play part and well remember Ian McKay, a prodigy when I started at CHS playing 'Simos'. A simultaneous set of games, just like on the film. He also won every one. He could also play Simos blindfolded. I wonder what became of him.
Nic the Chick gave us some bad news this morning. Yes, all the shops were open again. Yes, the restaurants would be open from tomorrow. However it's against the law for anyone to travel outside their local authority area. How nasty is that. She's changed her name to The Littlest Witch!
Tomorrow looks even more wet than today. It did rain a bit when we were walking the canal, but tomorrow looks like more serious rain. We'll have to wait and see just how wet it's going to be as we joyfully tramp round our local authority area. At least until Monday 😉.