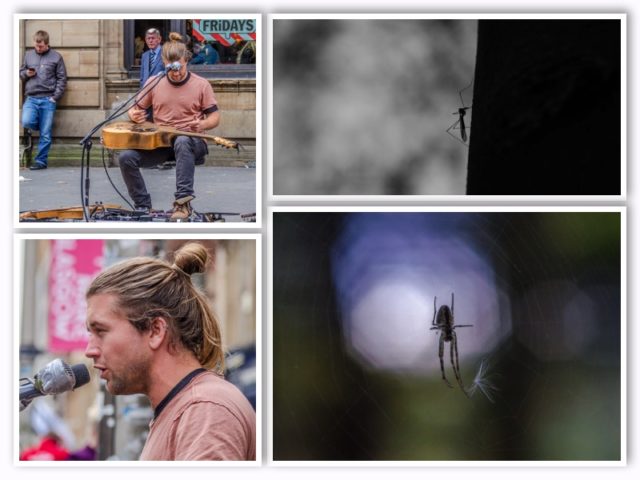 Today I intended to get the bus in to Glasgow just to have a wander, probably gather some photos and maybe get a sketch completed. That was the 'fun' stuff, I also wanted to get a baseline price for a new phone contract. That wouldn't be fun.
As it turned out, Scamp offered me a lift to the station, so I got the train in instead. When I got to the station there was a fair commotion with four police cars and two ambulances sitting outside. The reason for the stramash was lying on the floor in the corridor that takes you down to the low level station. One of the ceiling panels had fallen. Usually these panels are fibreboard or plasterboard, but this part of the station dates to the 1960s and this panel was concrete! Cordons had been set up, police were taking statements from witnesses and at least one wee Glesga wummin who wanted to be seen to be 'assisting police with their enquiries'. There were also a few ambulance personnel looking for someone to assist. Thankfully only one person was injured, but looking at the size of the concrete lumps, this could have had a totally different outcome.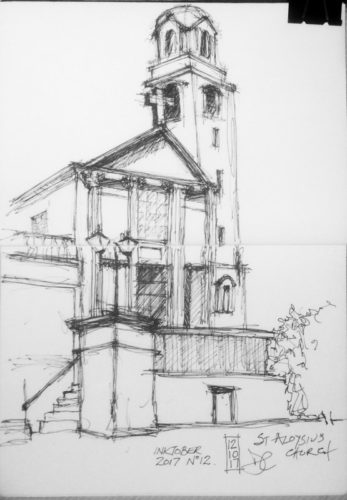 I walked up Sausage Roll Street and found a sketch for the day. It wasn't a cold day, but the wind blowing over Garnethill was cutting. I took about 15 minutes to get the bones of the sketch of St Aloysius Church. Even at the second attempt I managed to truncate it and removed the dome at the top of the tower. However, I think I got the gist of the building. Went in to Mandors and got some fabric to make a bow tie for myself. It's printed with cameras. Quite apt I thought.
From there I walked down to Argyle Street via a couple of art galleries, looking for inspiration. Into Cass Art to browse. Just window shopping. They too had a gallery where a group of 25 artists were selling their work, so I wandered round looking for inspiration. Inspiration is a fickle thing. I found it in the first galleries, but in the Cass Art gallery I realised that my own work was actually not bad. After all this fun stuff, it was time to face Vodafone.
As predicted, all they offered was the blanket price from the website. I could have sat on my backside in front of my shiny new iMac and got that same price. In fact I had. I was told that if I was in the police, army NHS or any of 5,000 other occupations or companies, I was eligible for a discount (allegedly!), but upgrading was not due a discount. Staying with a company was not due a discount. That said, the salesperson had originally told me that I was not eligible for an upgrade because I was outwith the 70 days until the end of my contract. Also, apparently I'd phoned the shop at some point in the last week. Believe me, I wouldn't waste any of my unlimited minutes phoning them. I just wanted a baseline price and I got their laughable offer, then left.
Scamp had offered to pick me up from the station, so I just got the train back after checking that it was still ok with her. Had a quick roll 'n' cooked ham as a late lunch and then grabbed the Nikon and went for a walk in St Mo's. That's where I got PoD which was the spider. I was tempted by the pic of the bloke playing slide guitar on Bucky Street. It was when I got the photo home I realised that only his right hand had false nails. Presumably to help with picking the strings. I'd love to have been in the nail bar when he walked in!
Phoned Vodafone customer service later and spoke to someone sensible who sold me the same deal as the salesman in Glasgow, but with a 20% discount. I know I could have pressed for 25% or maybe eve 30%, but he had beaten the Tesco price and it meant I was getting a new phone with more storage space for less than I paid two years ago. Result!
All of that and Seabass for dinner. A good day!
Looks like overnight rain and a wet morning commute, except we don't commute any more. We just wait for the sun to shine, which may happen around midday with a bit of luck. No plans for tomorrow. May do the first backup of the iMac. Need to think up a name for the new phone. The last one was 'Mambo No 5'. I'm thinking this one might be 'Isa.'