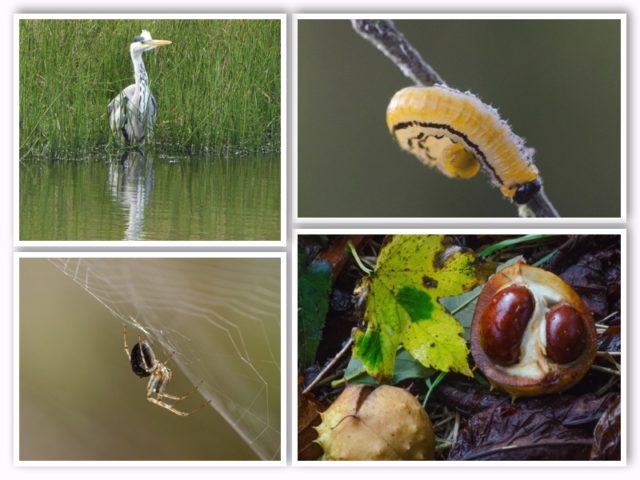 There's not much to be said about the morning. It rained and it was windy, then it rained again.
Tried to copy a folder of videos from the MBP (Mac Book Pro) to the iMac. It was doing it over WiFi and reported that it would take about an hour. Videos are notoriously large files and there were a lot of them, around fifty at last count. In fact there were more like a hundred because I converted the MOVs to MP4s to make them more portable and ensure they would play in the majority of platforms. Anyway, I decided that an hour was far too long, so I stopped the transfer and used a portable hard disk to copy the files from the MBP. Then it was a simple job to unplug the portable HD and re-plug it to the iMac. There were two partitions on the portable HD and I should issue a warning that there's a fair amount of Technospeak in this part of the blog. If you don't want to hear all the geek stuff, maybe you should move down to the but that says "SAFE NOW!" Anyway, now the lightweights are gone, here's where we talk about the 'techy' stuff and this is where things go awry.
The HD was partitioned into two parts. Part 1 was mainly for photos backup and Part 2 was for general use. Both partitions were formatted to NTFS. Now Macs can read NTFS, but natively,they can't write to it. When I plugged the HD into the iMac it could only read the photos part and I'd copies the files to the other part and it wasn't showing up. It wasn't mounted that's why. I ejected it and plugged it back in to the MBP and it read as normal. I checked it using Disk Utility and it showed up as ok. Ejected it again and plugged it back into the iMac. Still no go. Now I said that Macs can't natively write to NTFS, but I use a wee app by Paragon that allows the Mac to write to an NTFS disk. It also has a disk checker, so I used it to check said HD. It told me it was dirty. That's computerspeak for something's screwed up here. It tried then to repair the damage, but after about ten minutes had got nowhere. This needed the big guns. Ejected the disk and went upstairs to where the PCs live and powered up the laptop, then attached the HD. Yes, it loaded, but only after a lot of clicks and whines. Went into a DOS command prompt and tried to run CHKDSK which is the program that CHecKs the DiSK. Unfortunately you can't simply do that. You need to go to the Elevated Command Prompt as an Administrator. Typical american idea. Yes, you can buy a gun, or two, or three over the counter, but you have to be Administrator to fix your own disk on your own machine! Finally typed in the command CHKDSK G: /F, pressed enter and five minutes later the job was done. Ejected the disk and re-connected it just to check, and everything was fine and dandy. Ejected it again and took it down to the iMac where it loaded as if nothing had happened. The files copied in just under 6 minutes. The entire process from cancelling the WiFi transfer had taken just short of two hours.
The moral of the story is: If it's working, don't mess around with it.
SAFE NOW!
After the disk copying fiasco we had lunch and while Scamp was blowing up a storm on the clarinet, I slipped out to St Mo's where I spotted the spider, the caterpillar, the chestnuts (although they were arranged tastefully first) and finally I chanced upon Mr Grey. I think it was Mr Grey my grey heron adversary in St Mo's, but this one looked a bit thinner and smaller than Mr Grey. Maybe it's Son of Mr Grey. I got a few photos of him before he made his exit down to the other end of the pond. I must say at this point, the photos on the retina screen look amazing. It totally transforms the editing process when you can see the detail so clearly.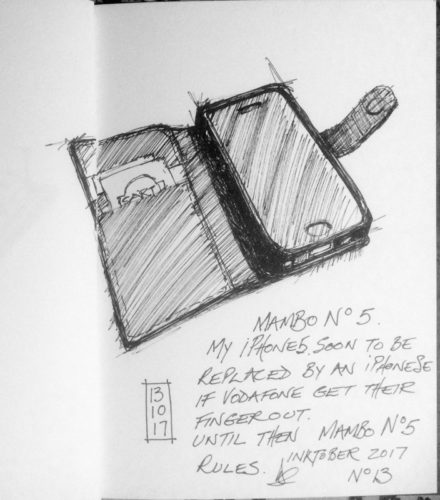 Today's sketch was of Mambo No 5, my trusty iPhone 5s. I think it deserved a photo after all the hard work its done and the hours of music its played. I even took the photo of the drawing with it, as I always do with sketches.
Now I'm off to bed. I've got a wee tickle in the back of my throat. Probably caught some nasty cold germs from all the sniffling passengers on the train yesterday. Looks like more rain tomorrow. Don't have any plans, but may go somewhere for lunch.