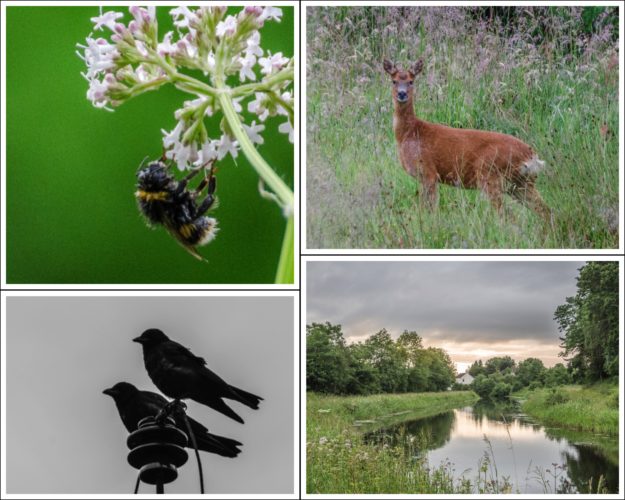 Woke at 6am and couldn't get back to sleep again, so it was off again to Auchinstarry to walk along the canal to Twechar and then back along the railway to Auchinstarry again and then drive home for breakfast.  That's twice this week I've needlessly woken and walked in the middle of the night, well, almost in the middle of the night!  The walk along the canal, although interesting wasn't as good as Tuesday's one along the railway.  Yes, the birds were singing and the smell of the flowers was great, but it was a lot cloudier today and the light wasn't as good as Tuesday's.  That said, I did manage to get a photo of a deer racing up towards Barr Hill and a nice wee peaceful shot of the canal at Smithstone.  Smithstone was a wee hamlet near Auchinstarry in the early 1900s.  My dad told me about it, but he pronounced it 'Smeeston'.  Now Smithstone is a new housing estate in Cumbernauld.
After breakfast, I took the car down to get expert opinion on a leaky gasket on the offside drive shaft.  It goes in tomorrow to get it fixed.  Apparently it's a known problem with Renaults, but more of a problem with Corsas.  Why don't manufacturers act on the information they are getting from dealers and redesign these things before they become a bigger problem.  That's what turns people away from British and European cars.  I think our next car will be a Nissan, a Honda or a Kia.
We went to Vecchia Bologna for lunch and although it wasn't the best I've had there, it was most enjoyable.
So tomorrow will be another enforced early rise to get a new gaiter fitted to the Megane.  What we do with the rest of the day will depend on the weather.  After a fairly decent day, it's raining now, and is forecast to rain all night, but tomorrow is supposed to be fair.  Saturday is set fair too.  Sunday?  Oh dear, I think I'll stay in bed all day on Sunday!