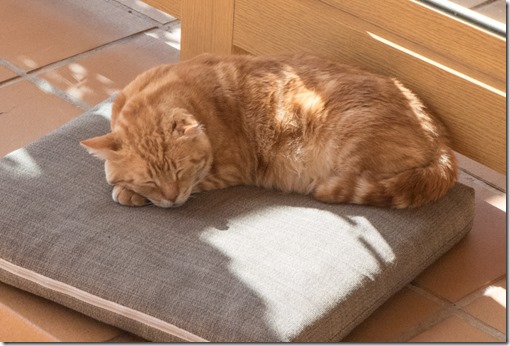 After a restless night. Too cold! We saw the sun!!
We both agreed that the reason we didn't sleep well was that it was too cold. Yes, the weather is the problem this year. It's been a problem since January and it still is. Who would have thought we'd be saying that it was too cold in Lanzarote? Well, it was. Not so this morning. Blue skies and sunshine was on offer, so we took it.
Yesterday we hadn't even unpacked after our adventures. This morning we did, then went for breakfast. As usual I over did things and piled too much on my plate. Even Scamp had a bit of cake with her coffee, after her omelette of course! Went down to one of the paddling pools and found a couple of sun beds there sheltered from the wind. It was a bit breezy today, but not cold in the morning, thankfully. After lying there for an hour or so we went in search of pool towels and also booked the Asian restaurant for tonight's dinner. Went for lunch to one of the pool bars. Scamp had salad and I had a hamburger. Both were fine. Got changed for swimming and found a sun bed near the big pool. The big pool is divided into two. One half is just a cold water swimming pool, the other pool has a swim-up bar with bar stools in the water! What we didn't realise was that the bar pool is heated. Scamp was first in the water and just swam in the cold part. I was more adventurous and made the warm water discovery. Although it's usually me who gets accused of earwigging, today it was Scamp who tuned in to a conversation from two couples in front of us. One of them didn't need much tuning in to, her Minnie Mouse voice cut through you whether you were interested or not. Apparently they were singing the praises of Thomson cruise ships. That was the only company they had cruised with, so that gave them a broad enough base to compare them, apparently! An interesting conversation, or maybe a lecture. Actually we stayed there all afternoon, despite the droning, until the drizzle started around 4.30. When it looked as if it was on for the rest of the day we packed up and went back to the room for a G&T and a seat on the balcony, then the rain went off. While we were sitting , there was a knock at the door. When I answered it there was a bloke standing there who handed me a letter and a rose for Scamp! The letter was from the management thanking us for making a return visit to their hotel! Ok, it cost them next to nothing to do, but it was a lovely gesture. What British hotel would do that
Got ready for dinner after the G&Ts and went to the Asian. We had been there two years ago and liked it. It hadn't changed much. Food was still good and service was good too. There must have been a lorry load of Germans dumped on the hotel today. The place was jumping. Hardly anywhere to sit. Finally got a table in a sheltered spot and had a coffee. Same problem as breakfast. Eye too big for my belly.
Sat through the Kids Club which was entertaining, loud and colourful. Then waited an hour for tonight's star show Flamenco dancers. Watched about fifteen minutes of it before making a sharp exit. It was the usual touristy nonsense. Adjourned to the room. It was now getting cold, colder than last night. I think the hoodie will be getting unpacked for tomorrow.
Tomorrow we're hoping to go for a walk, Probably into town.