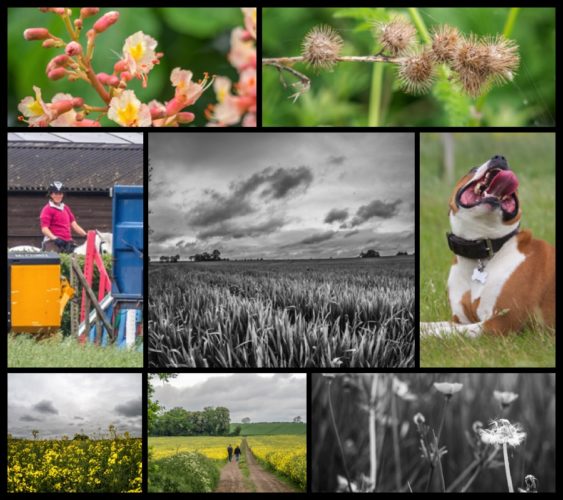 So today is Saturday it's a bit cloudy today with the threat of rain later.  We went into Baldock with Jamie to the butchers, where else? Got the usual suspects, viz:
A couple of dinosaur bones (AKA short ribs)
Four sausages
Four slices of black pudding
Two pork and apple burgers
Just for something new, Chicken and Chickpea curry
JIC was buying in for a siege (his expression) and for a barbecue in the garden tomorrow.  When we went back to the house, JIC took us for a walk through the wheat fields and up to the road.  One of his walks with Vixen.  While we were walking, Sim was riding Valioso.  Having a dog is quite tying we always feel, but having a horse must be so much more restricting.
After lunch we went to meet Vixen.  She was much more friendly than I had anticipated and her agility is something to be admired.  Who would have thought that a solid looking dog could jump so high.  We walked her round a dog walking field with JIC throwing tennis balls for her and Sim getting them back from her.  An hour passed really too quickly.  When it was time to leave, I felt really sorry for her.  It was almost like we were abandoning this beautifully coloured bundle of energy – Vixen that is 😉 .  Looking forward to seeing how she accepts us when we are in HER house, not kennels.  No matter how luxurious they are, they are still kennels.
For dinner, JIC drove us to a Thai restaurant in a gastro-pub called the Navigator.  Food was absolutely brilliant.  JIC and I had Duck Green Curry with sticky rice.  Hot, but not unbearably so.  Scamp had Sweet and Sour Chicken and Sim had the biggest seabass I've ever seen – a whole one complete with head!  We all had a sort of combo starter to share.  Quite the best meal I've had for a long time.  Sorry, Jimmy Spice's, this was better.